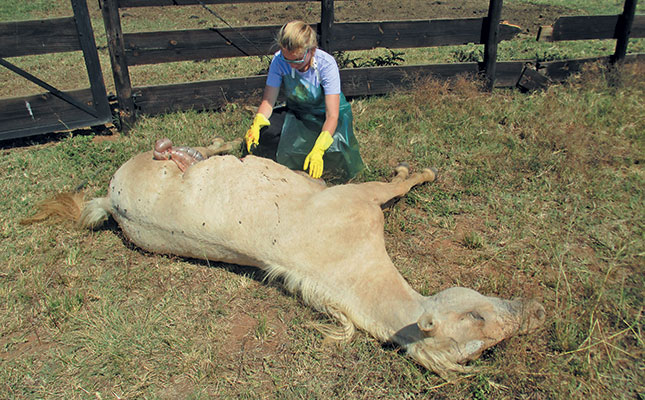 Horse owners have been cautioned to implement strict biosecurity measures in an effort to contain the current outbreak of African horse sickness (AHS) in South Africa.
AHS is a serious insect-borne disease of horses, mules and donkeys. It is endemic to Africa and is typically characterised by respiratory and circulatory damage, accompanied by fever and loss of appetite.
READ What to do until the vet arrives
The disease manifests in lung and heart forms. The first symptom of the lung form (dunkop) is usually a high fever of up to 41°C, followed by difficulty breathing and a frothy discharge from the nose.
Dunkop is characterised by a high mortality rate of up to 90%, with horses dying suddenly.
In the heart form (dikkop), the disease usually takes longer to develop, and the mortality rate is around 50%.
Death typically occurs between four and eight days after the onset of the fever. According to a directive by the Department of Agriculture, Fisheries and Forestry (DAFF), the main symptom of dikkop is a swollen head and eyes.
Dr Gary Buhrmann, a vet at DAFF, said the biting midges responsible for the transmission of the disease were active in the late afternoons and early mornings.
As such, breeders needed to keep their horses stabled from two hours before dusk until two hours after dawn. Most of the outbreaks reported so far this year had occurred in Gauteng, he added.
READ Treating summer skin problems
"AHS occurs mostly in the warm, rainy season when midges are plentiful, and disappears after frost when the midges die. The high-risk season usually stretches from February to March," he said.
As AHS is a notifiable disease, breeders and private vets were obliged to notify state vets when any cases of AHS were detected.
Local horses earmarked for export to the EU had to be quarantined for three weeks in Cape Town, the AHS-control zone, before being sent to quarantine for a further three months in Mauritius.
"After the 2016 outbreak, the EU imposed a ban on direct imports from South Africa. Currently, export horses are required to remain for an additional two weeks in Beaufort West, Touwsrivier and George, among others, before being sent to the quarantine facility in Cape Town," Buhrmann said.