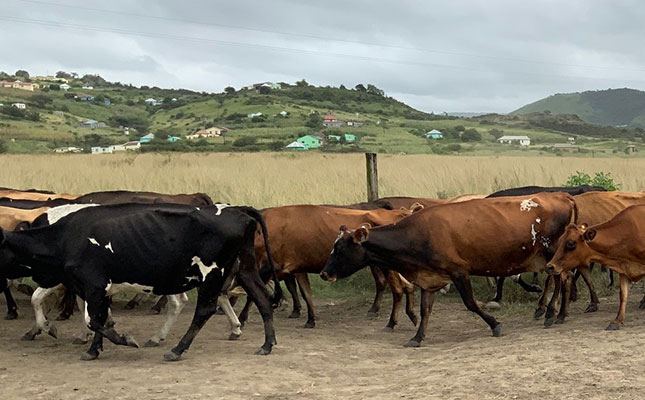 Political and agricultural entities are calling for an urgent investigation into how 350 cows at an Eastern Cape dairy farming project were allegedly allowed to starve to death last year.
These allegations were recently made by Retief Odendaal, head of the Rural Development and Agrarian Reform portfolio at the DA in the province.
In a statement, Odendaal said the Eastern Cape DA's oversight visit to the Mantusini Dairy project near Port St Johns, had found "rotting carcasses" of cows left lying in open fields to "feed the vultures".
"Representatives of Mantusini Dairy Trust indicated that their cows perished on a large scale during the [2020] winter due to the unavailability of feed. Since the facility has never had a mower or a bailer, they could not stockpile feed for the dry winter months, and the trust did not have the necessary funding to buy feed for its cattle," Odendaal said.
He added that last year the DA in the province had "exposed" how R43 million had allegedly been invested into "the failed dairy project" by both the national Department of Agriculture, Land Reform and Rural Development and the Eastern Cape Department of Rural Development and Agrarian Reform.
Despite this reported investment, the DA's oversight visit found that operations at Mantusini Dairy had now "stopped altogether".
Odendaal said the DA was seeking the intervention of the Eastern Cape agriculture department's newly appointed MEC, Nonkqubela Pieters, and was also demanding an audit into how the R43 million was spent.
Brent McNamara, CEO of Agri Eastern Cape, said that while his organisation's leadership could not personally confirm Odendaal's allegations, "[he …] has a knowledgeable understanding of the agricultural landscape within the Eastern Cape and, as such, we have no reason to dispute his statements".
McNamara said that should Odendaal's allegations be established as fact, the people responsible for what happened at the Mantusini Dairy project needed to answer for it.
He added that Agri Eastern Cape, together with Agri SA, had repeatedly told government at both provincial and national levels that large land reform projects, such as the Mantusini Dairy project, could only be successful if government involved partners who had the necessary expertise and track record of success.
"Government has an extremely poor track record when it comes to understanding the complexities of commercial agriculture. […] the departure of Amadlelo Agri, a company with an established track record in managing these types of projects, sounded the warning bell," said McNamara.
Amadlelo Agri's CEO, Simpiwe Somdyala, told Farmer's Weekly that in recent years the company had increasingly become concerned about operations at Mantusini Dairy.
He added that Amadlelo Agri's recommendations that the dairy cattle be sold or temporarily relocated to other dairy farms until all necessary infrastructure was in place, had fallen on deaf ears.
"My conclusion was that everything that should have been done, wasn't done. Last year the [Mantusini] community decided that they didn't need [Amadlelo Agri] anymore because they had found an investor," Somdyala said.
Odendaal said the Mantusini Dairy Trust had indicated to him that this new joint venture partner had not been to the dairy since the start of 2021.
Pieters' spokesperson, Masiza Mazizi, said in a statement that on learning of the reports related to Mantusini Dairy, the MEC visited on Monday, 22 March, and reportedly found widespread problems, including "starving" cattle in need of "emergency" supplementary feed.
"The MEC has assembled a team of senior officials who are experts in this field to conduct an investigation. They have been given 21 days to conclude the investigation. All the facts around how many cows […] have died and all other matters will be [clarified] through this investigation. [The] investigation will include assessments of farm production, infrastructure and financial transactions," Mazizi said.