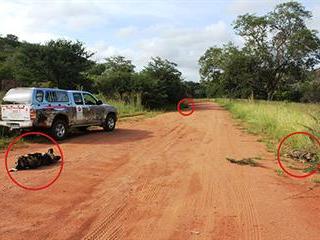 A forensic investigation revealed that three of the wild dogs were run over by a vehicle, while one of these was also shot. Evidence indicated that a fourth wild dog had been killed at the scene but its carcass could not be found.
Derek van der Merwe, a conflict mitigation field officer for the Endangered Wildlife Trust's Carnivore Conservation Programme, said the dogs appeared to have been killed late on Monday, 27 January 2014. The incident occurred on the Beauty gravel road between Vaalwater and Lephalale .
Van der Merwe said that only 450 wild dogs remained in SA, with Limpopo being one of the last places in the country to have free-roaming specimens of this species.
"The visible cruelty with which the animals were killed is particularly devastating in light of their low numbers," he said.
The EWT stressed that African wild dogs were protected under the National Environmental Management Biodiversity Act 10 of 2004 and by the Threatened or Protected Species Regulations of 2007. They were also categorised as 'endangered' because they were "an indigenous species facing a high risk of extinction in the wild in the near future, although they are not critically endangered".
Van der Merwe urged anyone who could shed light on the death of the four wild dogs to contact him at [email protected]