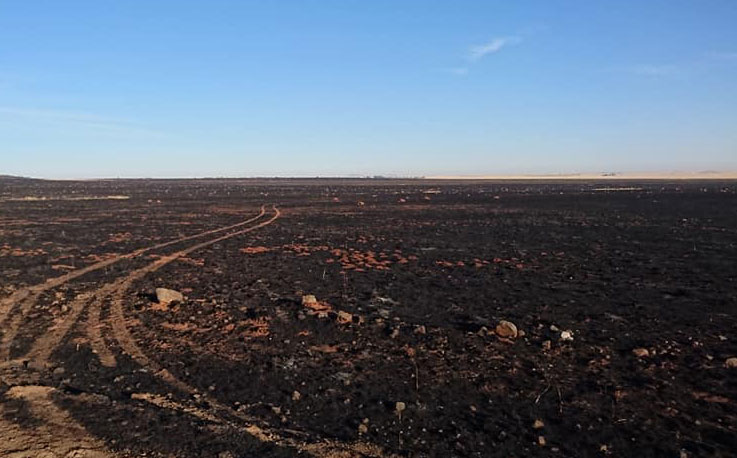 Sheep producer, FC Alexander, lost about 400 animals in the wildfire that raged near Trompsburg between 15 and 17 November, along with about 4 000ha of veld, constituting about 80% of his land.
Indications were that some 30 000ha were destroyed by the fire that started in Trompsburg and burned well into the Bethulie and Smithfield districts, he said.
Alexander said he and the other farmers who had suffered damage in the fire had been inundated by offers of grazing, feed donations and funds to pay for feed transportation.
"We cannot thank all the people enough, who took our plight to heart. It is heart-warming to experience the goodwill of fellow South Africans in such a difficult time."
Alexander said he had received reports of more animals succumbing to the fire, but local farmers' unions were still evaluating the full extent of the damage.
This wildfire was a classical example of extreme fire behaviour caused by weather conditions conducive to the development of a fire that was exceedingly difficult to contain. This was according to Johan Breytenbach, general manager of the Free State Umbrella Fire Protection Association.
He said temperatures in excess of 30°C, coupled with a wind speed of more than 20 km/hour and low humidity of below 15°C formed the ideal recipe for an extreme wildfire.
"Those were, to a large extent the exact conditions in Trompsburg when the fire broke out. It was impossible to manage the inferno. We are still assessing the damage caused by the flames," according to Breytenbach.
The highly combustible plant material also added to the intensity of the blaze.  The situation was exacerbated by the slightly overcast weather over that weekend.
This resulted in unstable air which, with the extremely high flame temperatures of over 120°C, created convection columns that sent the flames in different directions.
"Such a fire calls for highly sophisticated fire fighting equipment that we don't have in the Free State. The basic equipment local Fire Protection Associations had access to left them virtually helpless against the conflagration," he said.