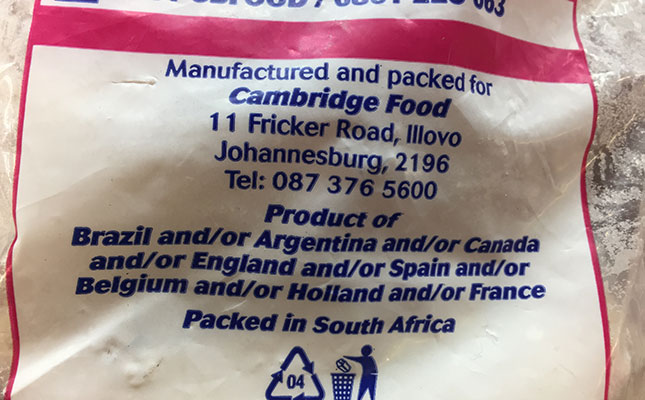 To illustrate how imported EU chicken portions were detrimental to South African consumers, a package of bone-in portions imported from the EU was used as an example.
READ Dumping, bird flu, cripples SA poultry and grain producers
The label on the package stated that a number of EU countries could be the source for the chicken portions, and Fair Play and CBH were thus concerned about a lack of traceability.
But according to Dessislava Choumelova, trade and economics counsellor for the EU delegation to South Africa, EU chicken was exported frozen, with the correct single country of origin indicated on packaging.
Marthinus Stander, CEO of CBH, told Farmer's Weekly that according to packaging legislation, a composite product, such as spices, could list several countries as sources of origin, but single products, such as poultry, needed to come from a single source.
READ How to succeed with small-scale chicken farming
Stander said retailers and importers often received correctly labelled poultry meat from the EU, but then defrosted it and repackaged it. It was at this stage that problems were introduced.
"There is also more food safety concerns with poultry than with some other products. If there is a sanitary challenge one would want to be able to recall it and trace its country of origin," Stander said.
However, Stander said there was some confusion over this, and while the Department of Agriculture, Forestry and Fisheries (DAFF) had assured him that he was correct in interpreting the legislation, he would meet with DAFF in early December to reaffirm that this form of labelling was illegal.
READ Food label claims: true, misleading, or outright lies?
A meat importer, who spoke on condition of anonymity, told Farmer's Weekly that importers were often not guaranteed the origin of the meat, and that poultry meat from the EU was often listed as coming from multiple countries.
He said packaging for specific countries of origin, after receiving product from multiple countries, would be economically challenging, as one has to order 50 000 bags per production run when ordering packaging, and with products originating from 12 or more countries, labelling for each specific country was not necessarily feasible.
"We import and supply to retailers who have their own packing plants. They split packages and repackage. Most of the retailers are accredited by external food safety companies," he said.
According to the Meat Safety Act No. 40 of 2000, only inspected and approved meat and carcasses were permitted to be cut.
"If carcasses or meat is received from a source other than the abattoir on the premises, the registered inspector must verify that: (a) documentation pertaining to the origin of such meat is available; (b) meat inspection was done on such meat and that it was passed," the Act stated.
While the Consumer Protection Act stated that the producer or importer of any goods that were prescribed needed to apply a trade description to those goods, thereby disclosing the country of origin, it did not specifically state how meat products needed to be handled.