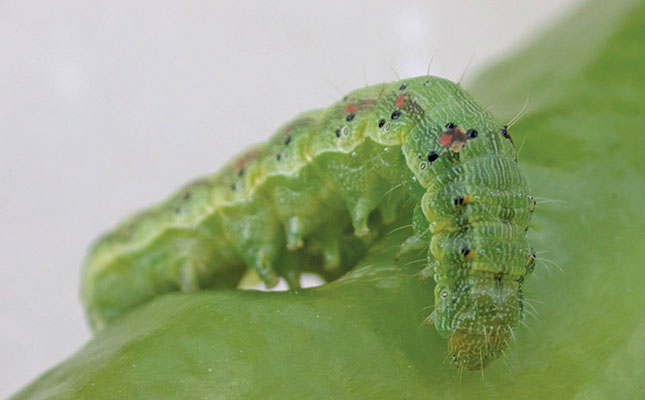 Moreover, reports have been coming in of numerous other pests, pointing to an explosion in pest populations in the coming season.
This is according to Dr Gerhard Verdoorn, consultant to Croplife SA.
Verdoorn said there had been an unprecedented African bollworm outbreak in the Swartland, a problem exacerbated by a lack of monitoring by many farmers.
"They sent me the pictures on Monday […] and these things were enormous – already fully grown adults," he told Farmer's Weekly.
Verdoorn added that chemical treatment of adult populations was far more difficult and costly. Alarm had also been sparked by stock-outs of the carbanate insecticide, methomyl.
Chris Cumming, a consultant to the Protein Research Foundation, told Farmer's Weekly that methomyl was often the product of choice to mix with pyrethroid active products to counter pyrethroid resistance.
"I don't know where the demand came from or if suppliers just didn't anticipate the demand but in a very short time nobody had methomyl. That's what caused the panic," he said.
Although there were alternatives to methomyl, these were expensive, according to Cummings.
He added that low yield prospects meant that farmers had to carefully weigh up whether or not chemical treatment was worth it.
"We've had a pretty disastrous winter down here in the Western Cape, which means the crop potential is not very high."
Farmers were also dealing with a highly abnormal year, he said. The first rains had come only in June, so the crops were late.
"Most of the canola would have been windrowed already and most of the farmers would have been delivering by October."
Cummings cautioned that the window for spray control was almost closed. "Only spray if it's really necessary. Both canola and wheat have passed the major danger period in their development for bollworm damage."
Both Verdoorn and Cumming advised farmers, including those producing stone fruit producers, to monitor for pests.
Verdoorn said that early reports had been received of large numbers of Spodoptera frugiperda, the moth stage of the fall armyworm, caught in pheromone traps.
"The first emergence of the fall armyworm is happening in the northern parts of the country. Some of my colleagues in KwaZulu-Natal said they had put out pheromone traps and seen literally millions of moths at night," he said.
He added it was important not to sideline other pest threats while focused on a single infestation.
Pests to watch out for in the coming weeks included: African bollworm, African armyworm, fall armyworm, false armyworm, tomato leaf miner (Tuta absoluta), Oriental fruit fly, stalk borer, thrips and whitefly.