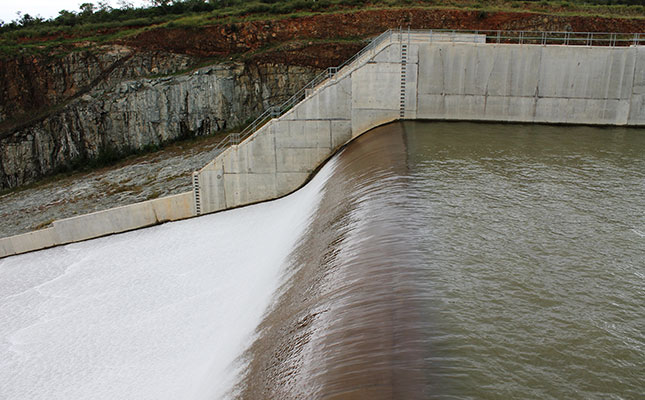 The average level of many public and farm dams may currently be declining across much of South Africa's summer rainfall region, but agriculture role players in these areas remain hopeful that forecasts for average to above-average rainfall during the 2020/2021 summer will replenish freshwater resources.
Recent announcements by the Department of Water and Sanitation (DWS) to highlight currently decreasing dam levels, and to request the public to use water carefully, may have resulted in some trepidation for urban residents, but some rural farmers were saying that this was expected for this time of the year.
In various statements, DWS spokesperson, Sputnik Ratau, urged South African residents and businesses to use water sparingly given that average dam levels in summer rainfall areas were declining, with some individual dams even at critically low levels.
He cited the example of the Vaal Dam, Gauteng's main water storage and supply dam, as being around 36% full at present (2019: 57%).
"The [department] advises Gauteng water users not to panic owing to deteriorating levels in the Vaal Dam, but to continue to use water wisely and sparingly," he said.
Corné Louw, senior economist at Grain SA, said that he had not heard about any concerns raised by the country's summer grain farmers regarding current water availability.
"In Mpumalanga, KwaZulu-Natal, and the eastern Free State, planting of summer grains usually starts from around 10 to 15 October and ends around 15 November. For the western areas of the summer rainfall region, the planting window is normally from about 15 November to around 20 December. Modelling data is trending towards a La Niña weather pattern that is expected to give us average to above-average rainfall this summer."
He also said that an added advantage was that many of the country's western summer grain production regions still had reasonable carry-over soil moisture from rain that fell in late autumn.
Hendrik Botha, chairperson of the KwaZulu-Natal Red Meat Producers' Organisation and a livestock and crop farmer, said that low farm dam levels were typical for this time of year, following the usual dry winter and before spring rainfall was due.
"We're in a reasonable situation where we are, and there are no water restrictions for farmers in our area. We're positive and hopeful for normal rain to arrive in October and November," he said.