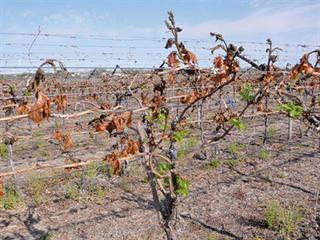 Severe frost cut a devastating 250km swathe through the Groblershoop-Blouputs region on the weekend of 21 September. Dirk Krapohl, manager of the Orange River Agricultural Union, said records showed it was the region's coldest weather for this time of the year in 126 years. Export table grapes, raisin grapes and wine grapes have been affected. "Some of the farmers have never seen frost before," said Henning Burger, agriculturalist at Orange River Wine Cellars (OWK). "Some vineyards are on the mend, but those that were budding have been irreparably damaged."
Table grapes
An estimated 800ha of table grape vines would not yield this season."Although this represents only about 15% of the region's table grape production, there are individual farmers who have lost 80% of their crop," Krapohl said. A total of 49 farmers suffered damages. Losses have been estimated at 2,5 million cartons, which translates to a potential income loss of about R250 million, while lost input costs have been estimated at R250 000. Krapohl said the frost meant that they would have 4 000 fewer sesonal job opportunities in the table grape industry.
Raisins
The frost affected sultana grapes with damage to sultana blocks varying from 30% to 80%. Worst-affected regions were Groblershoop, the Gariep region, Swartkop, Louisvale, Kanoneiland, Skanskopeiland, Loxtenvale and Friersdale. Burger said 6 800ha of sultanas were cultivated in the region and calculated that 1 580t less raisins would be produced in the 2014 season. "The loss in income is estimated at R15 000 per hectare, bringing the total estimated loss to R238 million for the season."
The sultana industry employed 1 190 permanent workers. The loss in seasonal employment for the raisin industry was estimated at 9 520 jobs.
Wine grapes
The wine grape vineyards had not really started budding at the time of the frost, according to Burger. Of the 4 000ha of wine grapes under production about 600ha had been lost amounting to an estimated income loss of R27 million and a production cost loss of R21 million. Burger expected that 1 200 seasonal workers from the wine grape industry may not be employed this season. "We willl only be able to make accurate measurements in four to six weeks, but the information we have used gives us a good estimate of eventual losses," said Krapohl.