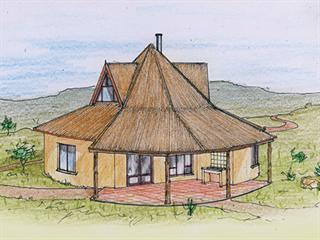 Dear Jonno
My husband and I have just sold off the main portion of our macadamia farm here in Mpumalanga and are left with a couple of hectares to live on. We have a reservoir which is 11m in diameter and would like, with your advice, to turn it into a two-bedroomed cottage with an open-plan kitchen, lounge/dining/living area and at least two toilets.
One bathroom should have a shower, basin and toilet, while the other just needs a toilet and basin. We realise that we may have to add to the original structure! You had a similar plan in Farmer's Weekly some years ago. This would have been very suitable, but we've unfortunately mislaid the copy.
Many thanks
Sue and Colin

Floor plan:n87m2 and veranda
Dear Sue and Colin
Here is a layout rendition that could be one of a dozen. The object here, though, is to create the functionality and internal flow of the house within the given space – 'a square peg in a round hole', so to speak. The only addition is the veranda area. This is where many leisure hours will be spent, especially during hot summer months. The orientation of the house still has to be decided on. If it is south-facing as in the sketch, the bedrooms are on the east side. Should the veranda face north, simply flip the house's layout from left to right. This will give you afternoon sun on the living-room/kitchen side. The roof covers a long span, so I thought I'd include some character. You could use tiles, slate or thatching for the roof. Let's have your comments.
Kind regards
Jonno