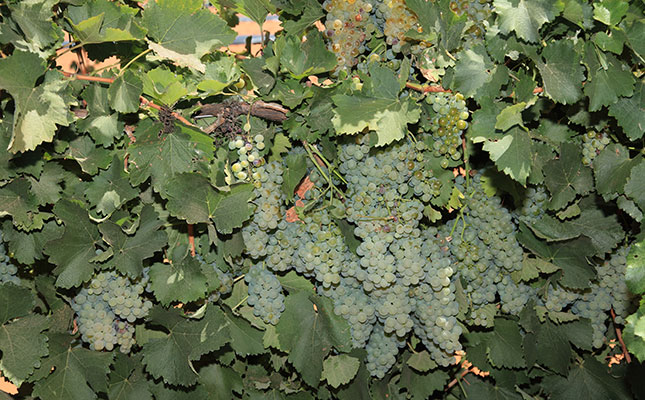 The 2021/22 wine grape season will go down as a good, but expensive, season, according to Conrad Schutte, Vinpro's consultation service manager.
Speaking at the recent Nedbank Vinpro annual information day, he said production was expected to be lower than last season's almost 1,46 million tons, but higher than the industry's five-year average of about 1,34 million tons.
The industry had made a decision not to make the exact figures of this season's crop estimate publicly available until May.
Production was expected to be lower than last season in the Orange River, Olifants River, Swartland, Paarl, Robertson, Worcester and Breedekloof regions, but up in the Southern Cape and Klein Karoo regions, as well as the Stellenbosch area.
Schutte said wet spring and summer conditions in various regions, such as the Orange River, Olifants River, Swartland, and Southern Cape regions had made it difficult to get into vineyards to apply fungicides when necessary, resulting in "an explosion of powdery mildew and downy mildew infestations on many farms in these regions".
"Farmers will have to remove infected wine grapes before mechanically harvesting or perform selective harvesting when picking by hand, to prevent these from negatively affecting wine grape quality," he said.
Schutte added that it was difficult to estimate the extent of the losses. "Losses in some vineyard blocks situated within [the] Paarl [area] specifically, is now estimated [to have] 5% infection, but prior experience has taught us that losses could be up to double the estimate, so we will only know later this season."
In addition, supply chain disruptions due to the COVID-19 pandemic resulted in cover crops being planted later than usual, and this combined with the favourable climatic conditions resulted in extensive problems with weeds in some areas, driving up herbicide and weed management costs.
Vegetative growth is also "out of control" in some regions, with Chenin Blanc vines in the Paarl area, for example, growing into what Schutte called "locomotive canopies".
"Like a locomotive, these canopies grow fast and require a lot of labour to get under control. Farmers, for instance, will have to tuck main shoots into the trellises and remove side shoots and some leaves."
On top of this, production costs had increased by approximately 15%, while farm-gate prices had only increased by 3% to 5%.
Wines of South Africa (WoSA) reported earlier this month that wine exports recovered to "a healthier volume of 388 million litres", while the total value of exports grew to R10,2 billion, compared with 2018, when a total volume of 420 million litres fetched only R9,1 billion.
Siobhan Thompson, CEO of WoSA, said she expected this growth trend in volume and value to continue, but it would probably be curtailed by the shortage of packaging materials, including labels and bottles, as well as container shortages, a large increase in export costs via certain routes, and problems at the Cape Town harbour.
"It is evident that our key markets see South Africa as a producer of consistently high-quality wine, and that even under trying conditions, we endeavour to keep supplying our markets and continue to sell wine responsibly, which further instils a sense of trust."