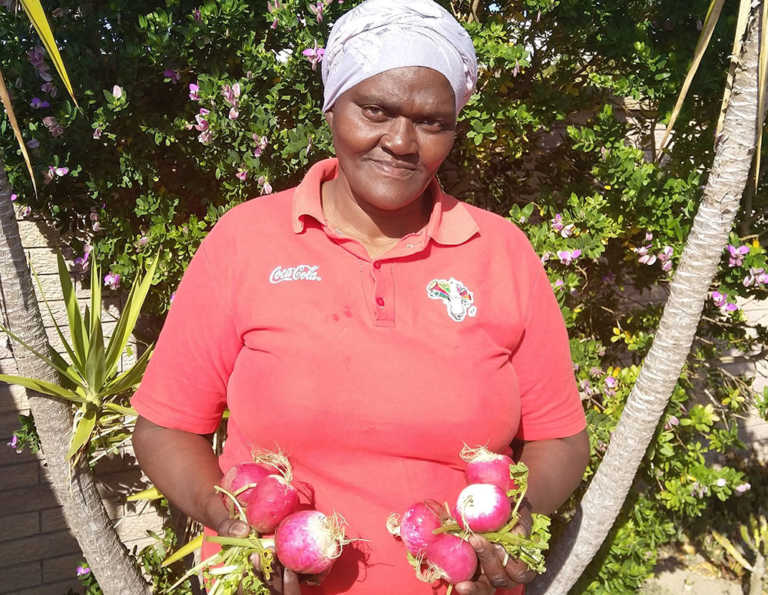 She produces a variety of vegetables on a patch of land no bigger that 80m2, from which she feeds her family and creates an extra source of income, as she sells the surplus produce.
Stungu grew up in the Eastern Cape and spent many years on a farm before becoming a full-time domestic worker in Gauteng in 2012.
She moved back to her home province with her employers in 2016 when they settled in Port Elizabeth and continued working for them. Her employer, Dr Gerhard Verdoorn, is the director of the Griffon Poison Information Centre, and a vulture activist.
He said he helped Stungu start her first garden by giving her a small packet of vegetable seeds and some liquid fertiliser.
It was not long after that that she started bringing some of the fruits of her labour to the Verdoorn household from her home in Motherwell. According to Verdoorn, this included exceptionally large and top-quality cabbages, pumpkins, carrots, spinach and radishes. She has since also started planting red chillies.
Verdoorn said the one of the benefits of a small farming operation such as Stungu's was that vegetables were now made available at reasonable prices to her community and through her business they have access to affordable and healthy food.
He said even a small patch of land no bigger than 30m2 was sufficient to plant cabbages, spinach, carrots, beetroot, pumpkins, butternut, maize and even high-value vegetables such as sweet peppers, tomatoes, potatoes and chillies.
Stungu had proven that anyone could start a small farming business, he said. "With a R20 packet of spinach seeds, a spinach harvest worth a few hundred rand is possible."
Households in informal settlements, where the availability of running water is often a problem, can also grow vegetables in a container such as an old vehicle tyre, he added.