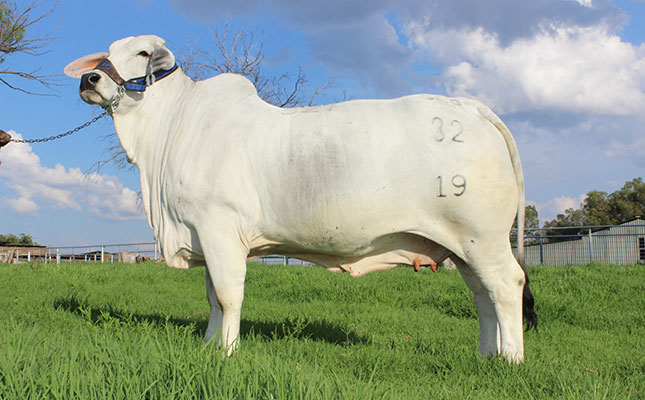 The cow was sold by the Serfbred Brahman stud in Potchefstroom to Marius de Beer, owner of the Keerom Brahman Stud in Dwaalboom.
This was the highest price ever paid for a Brahman female animal in South Africa, as well as the highest price ever paid for a female beef stud animal in the country. The sale was held by André Kock & Seun.
READ Bonsmaras that set bank-breaking records
Paul van Vuuren Jr, auctioneer for the sale, told Farmer's Weekly that the price paid for SER 19 32 made sense as "good genetics were in high demand at the moment, with records flying for almost every cattle breed associated with improved performance".
Meanwhile, De Beer said that the cow was an investment into the future of his stud. "Female animals such as SER 19 32 do not come up for auction every day, as stud breeders prefer to keep their best genetics for themselves. On top of this, she is five months [in calf] with the offspring of the highly exceptional bull, SER 20 65."
In March this year, De Beer also paid a record R1 million for the Brahman bull, 'Sleeping Giant' WIL 15 63.
READ Boran bull smashes SA breed record with R2,3 million price tag
He added that he would be using embryo flushing on SER 19 32 to obtain as many offspring from the heifer as possible.
"I should be able to produce at least 40 offspring via embryo flushing from SER 19 32 during her lifespan, and probably at least four offspring using natural breeding techniques. If each of her offspring sells for R50 000, then the investment [will have been worth it]."
According to Carla de Kock, manager of the Serfbred Brahman stud, the cow had already made a name for herself as a breed and interbreed champion in various competitions.
At the BKB African Livestock Expo in October last year, for example, she was crowned the second-best female animal in the Gold Cup Award for the Best Female Animal, despite the fact that she was competing against more mature animals.