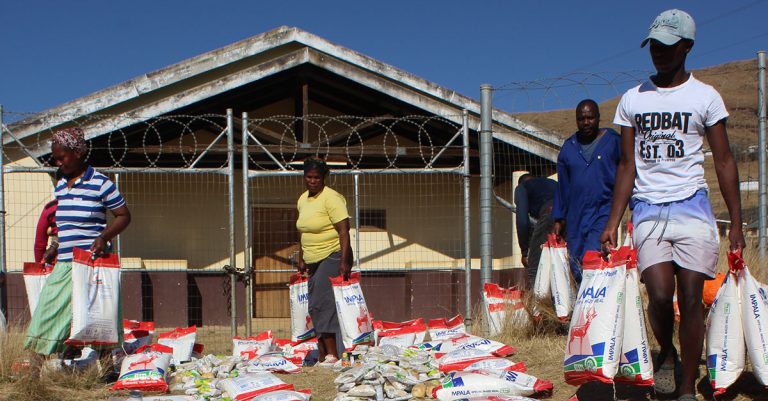 The KwaZulu-Natal Agricultural Union (Kwanalu) and Agri SA have distributed food donations to the value of more than R5 million in an attempt to return order and stability to the deep rural parts of KwaZulu-Natal (KZN) following last month's civil unrest.
"Farmers need a secure and stable rural environment in order to continue with their businesses, so we are ultimately doing this to help our producers," Dr Kathy Hurly, Kwanalu project manager said.
It had taken three weeks, but the majority of the province's farming activities were slowly resuming again, Hurly said.
"Milk trucks can move from farms to processors again, and things are slowly returning to normal. However, we do have a major backlog that needs to be caught up, and our retailers still need to restock stores."
Meanwhile, there were thousands of people living in the rural areas of the province who depended on small towns for everything, from food to social grants, Hurly added.
"The donations have already fed over 500 000 people, and will ensure food security for a further 300 000 in the upcoming weeks."
Kwanalu and Agri SA teamed up with We are South Africans and their partners, ReMAX SA, One Logix, Toyota Knights, various Round Tables, and Hino Pietermaritzburg.
Together these entities were able to transport more than 5t of donated food from Gauteng to KwaZulu-Natal.
In addition, nearly 32t of maize meal was donated by Senwes, while Karino Farms in Mpumalanga donated 4t of food through the Citrus Growers' Association of Southern Africa's social responsibility initiative, OrangeHearts.
Standard Bank's OneFarmShare platform donated potatoes and onions, while 2t of sugar were provided by UCL.
"It quickly emerged that out of the 31 rural towns hit by the unrest, there were 10 vulnerable towns needing critical assistance immediately. Together with the Agri SA Disaster Relief Foundation, we put plans in place to provide humanitarian aid to the most vulnerable rural communities in our province," Hurly said.
"Rebuilding the decimated rural towns is not going to be easy, but it does provide an opportunity to review how rural towns operate and to identify how safety, security and stability can be strengthened.
"July's unrest has shown that the functioning of rural towns is critical to the survival of thousands of people in the deep rural areas of KZN," she said.
Kwanalu developed a business plan aimed at supporting women and youth in rural businesses.
"When training is combined with a business stimulus and business incubation, it can be used as a vehicle to reconstruct the 31 rural towns. Because it is aimed at the entire agriculture value chain, it can [develop] new farmers, but more importantly, provide a mechanism to link these farmers into local and new markets."