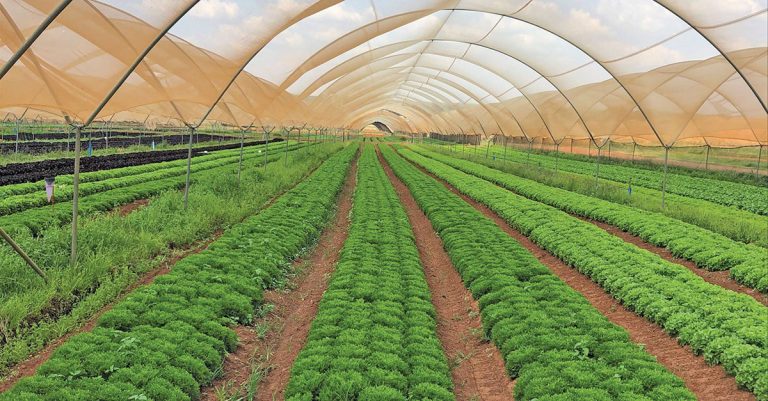 Not knowing what to do after finishing his military service back in the 1970s, Michael Kaplan set off to work on a kibbutz in Israel, where he was exposed to banana, dairy and chicken production.
From there, he backpacked through Europe, and was particularly impressed by the new technologies that farmers in the Netherlands were using to protect their crops and improve production efficiencies.
Back home in East London in 1978, he made the decision to become a farmer, an option that was met with criticism from family and peers who did not have farming backgrounds.
"My mother, Ethel, was a doctor and my father, Lewis, a lawyer, so they thought I was completely bonkers when I told them I wanted to farm," recalls Kaplan.
In pursuit of his dream, he wanted to study agriculture at the Elsenburg Agricultural
Training Institute in the Western Cape, but entries had already closed by the time he applied. So he began working at what was then the English Trust Company farm in Stellenbosch, thanks to an introduction from his childhood friend, Bruce Glazer, who already worked there.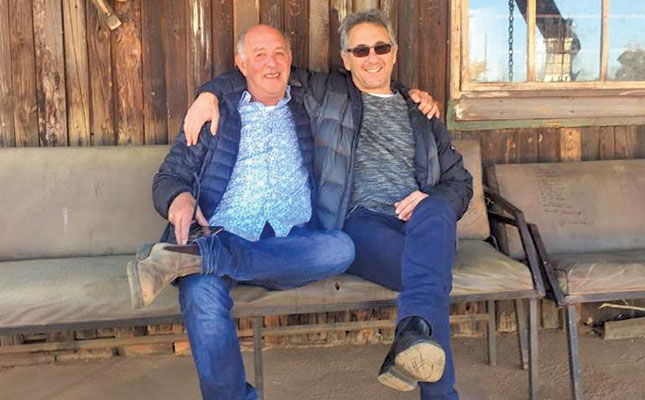 "It really was a case of being in the right place at the right time, as the English Trust Company was one of the first to introduce farming tunnels in South Africa.
"They produced tomatoes using the nutrient film technique [NFT] and experimented with the gravel flow technique [GFT] to grow butter lettuce and celery," says Kaplan.
These hydroponic techniques, he explains, are similar in that both entail the circulation of a nutrient solution in a closed system. The difference is that with GFT, gravel is used as a growth medium, whereas, with NFT, plants are suspended and their roots exposed.
Early days
Kaplan worked at the English Trust Company for two years. He then learnt that the Joburg Market sold up to three times more vegetables than its Cape Town equivalent.
Deciding it was time to spread his wings, he drove up to Johannesburg, where he began looking for a business partner and land on which to grow his own produce.
"My mother lent me R10 000, which I used to rent land near Heidelberg [about 50km south-east of Johannesburg] and produce celery under 2 000m² of nets using GFT," says Kaplan.
In 1981, Heidelberg was hit by a severe snowstorm. It destroyed almost all of Kaplan's infrastructure, but he managed to save most of the crop and used the income from the sale to rebuild his operation.
"I kept costs low by doing almost everything myself, and using the income to grow the operation, reaching 8 000m² by the third year of production," recalls Kaplan.
In his fourth year of operation, he started looking for land closer to the Joburg Market and with more favourable production conditions.
"These are actually two of the most important prerequisites for farming success; you need to be close to the market, and farm in a region where the climatic and production conditions are suited to the crop you want to grow. I learnt the hard way that the Highveld is unsuited to salad production in winter," he says.
Financing
With a clearer idea of what he required, Kaplan bought land near Nooitgedacht and applied to the Land Bank for a loan.
Being unfamiliar with hydroponic production, the bank declined his application, but Kaplan managed to secure a loan from First National Bank at an interest rate of 26%. Fortunately, the market was far less competitive and demanding in those days, which enabled him to repay the loan quickly.
"It would be almost impossible to accomplish the same today; land, labour, infrastructure and production costs are exorbitant. And you buy everything in dollars and euros but get paid in rands," he says.
Costs are driven up even further by international production standards and auditing programmes such as GlobalGAP and HACCP, which are required to supply most markets today, while market access is complicated by retailers and big buyers demanding huge supply volumes all year round.
An impressive growth path
In the intervening years, Glazer had studied agriculture at Elsenburg and thereafter also worked on a kibbutz in Israel. On his return in 1984 he bought a farm near Kaplan's, and two years later the two decided to amalgamate their businesses to create better economies of scale.
The new company was called Dew Crisp. To add value to their produce, they sold ready-to-eat lettuce in pillow packs, a market they dominated for over six years.
Since then, Dew Crisp has grown into one of the largest value-added salad suppliers in South Africa, expanding their geographical footprint over time to lengthen their production season and mitigate climate and production risks.
Today, they have 10ha under production in Muldersdrift, 200ha near Bapsfontein and 140ha near Philippi, as well as processing plants in the West and East Rand of Gauteng and in Franschhoek in the Western Cape.
Dew Crisp also sources produce from between 15 and 20 selected farmers across geographically diverse regions, some of whom have been supplying the business for over 25 years.
The company's empowerment arm, Rural Farms, supports and sources produce from five previously disadvantaged smallholder farmers.
In 2009, Agri-Vie, the Africa Food & Agribusiness Investment Fund, bought a 49% share in Dew Crisp, which enabled Kaplan and Glazer to grow the business and place greater emphasis on financial administration and corporate governance.
"We realised that it wasn't enough to simply follow the market; we had to create our own destiny by becoming market leaders.
"To achieve this, we needed to be innovative and have a really good understanding of consumer trends. We've introduced many firsts on the market," says Kaplan.
Glazer and Kaplan have also drastically diversified their market risks by supplying all the major retailers, various prepared-meal manufacturers such as the Rhodes Food Group, and food service companies such as KFC, McDonald's, Nando's and Burger King.
Production
Dew Crisp's produce is grown under nets, in plastic tunnels and in open fields.
"Tomatoes, English cucumbers and peppers don't like water or cold [air] on their leaves, so we generally produce them under plastic," says Kaplan.
Shade nets are used in the production of salad vegetables, as these are sensitive to sunlight, heat and wind. The nets also protect against hail and bird damage while reducing the impact of rain by breaking up the droplets. In addition, they help to absorb heat and keep the production area cool.
Open-field production is highly seasonal and limited to hardier vegetables such as sweetcorn, onions and cabbage.
Most of the produce is grown in hydroponic systems, where the plants are supplied with nutrients via a nutrient solution. In most cases, Dew Crisp uses closed hydroponics (recycled water).
"Closed hydroponics is used for salad production in GFT, whereas open hydroponics is used in the production of tomatoes and cucumbers, as they are really sensitive to diseases that might spread with the water. For this reason, each of these plants has access to its own dripper," explains Kaplan.
Sawdust and coco peat are used as growth mediums in the open hydroponic systems.
"Some farmers sterilise these mediums to reuse them, but I prefer using them only once to prevent disease outbreaks. We do, however, reuse the gravel in the open gravel system, after cleaning it with a chlorine solution at the end of each production cycle."
In the same way, the crops that are planted in the soil are rotated to prevent a build-up of diseases.
Water quality largely determines the success of a hydroponic system, so a farmer should not even think of using it if the irrigation water is of poor quality or has high levels of chlorine or sodium. Water can be pretreated to rectify mineral imbalances, but this drives up costs. Water should, in any case, be filtered before use.
Dew Crisp has worked with scientists for years to refine its plant feeding programmes based on the nutritional requirements of various crops during different development phases.
"The trick is to supply exactly what the plant needs. An undersupply leads to plant deficiencies, while an oversupply is wasteful and might result in damage to the system and plants. To prevent this, we constantly monitor the recycled solution, plant growth and climatic conditions, and tweak the nutritional programme accordingly," says Kaplan.
Achieving this with open-field crops is even more challenging due to soil differences. Soil, nonetheless, has a higher buffering capacity and is thus more forgiving.
The farm does not employ any climate-control technology because of its high capital and running costs. Instead, tunnel windows are opened and closed to augment ventilation and reduce the interior temperature.
Even without climate-control technology, production is energy-intensive, as the water has to be recycled continuously. Back-up generators are a necessity, as most of the salads will die within hours if water flow is interrupted.
Advice
Farming, and especially farming under protection, has become highly specialised over the years, with low profit margins leaving little room for error.
"In the past, when a buyer ordered a hundred frilly lettuces, we could plant 150 and it didn't really have an impact on the bottom line. These days, production costs are so high that we plant to order and programme," says Kaplan.
The shift has also made it increasingly important for farmers to make use of consultants to fill their knowledge gaps.
"If you want to be successful today, you need to surround yourself with people who are better skilled than you are in their respective jobs."
Email Michael Kaplan at [email protected].