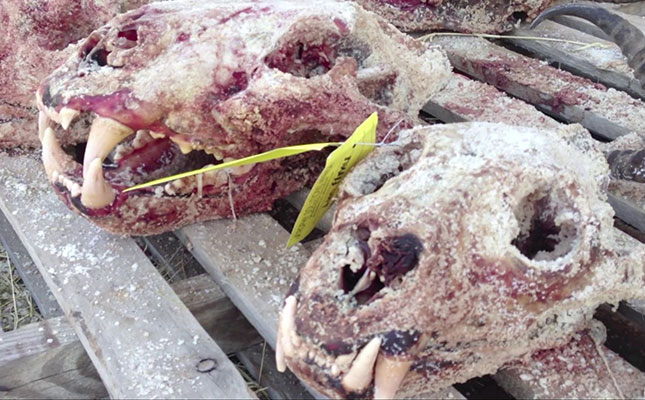 The South African government will in future be legally obliged to consider animal welfare in all its wildlife conservation decisions, according to a judgment handed down by the Gauteng High Court on Tuesday.
The court case followed an application by the National Council of Societies for the Prevention of Cruelty to Animals (NSPCA). The NSPCA argued that welfare considerations were ignored in the determination of quotas for the exporting of lion bones in 2017 and 2018.
The respondents were the Minister of Environmental Affairs and the South African Predators Association (SAPA).
Judge Jody Kollapen said in the judgement that South Africa's 2017 and 2018 lion export skeleton quotas were unlawful and constitutionally invalid although the exports had already taken place. He said the "adaptive management" of wild animals could not arbitrarily be divorced from ethics.
The treatment of lions in captivity was an environmental issue. He referred to the 2016 judgment in the NSPCA case against the Minister of Justice and Constitutional Development, which stated that "the rationale behind protecting animal welfare has shifted from merely safeguarding the moral status of humans to placing intrinsic value on animals as individuals".
SAPA previously told Farmer's Weekly that its comprehensive norms and standards pertaining to the management of captive lions provided for appropriate, internationally recognised guidelines, principles and procedures for the industry.
The objective was to maintain the highest possible standards of animal husbandry and welfare in in-situ and ex-situ sustainable utilisation, conservation, education and research.
The international Four Paws Animal Welfare Foundation meanwhile welcomed the ruling by the High Court. Fiona Miles, director of Four Paws South Africa said it provided a glimmer of hope in the struggle to shut the industry down.
Previous permits for the exporting of lion bones were awarded without any science-based merit, or without any welfare considerations being taken into account, she said.
Miles added that the captive breeding of lions and subsequent sub-sector of lion bone trade had been allowed to explode into an unmanageable and under-regulated industry which does not take any animal welfare considerations into account.
"This has been allowed to continue for far too long. We call on the minister of the Department of Environment, Forestry and Fisheries (DEFF), Barbara Creecy, to consult with animal welfare and conservation communities to find solutions to put the welfare of these animals first," she said.
According to Miles, the judgment set a precedent, which would determine any future export quotas. It finally highlighted the responsibility of the department to ensure that the welfare of animals was being accounted for.