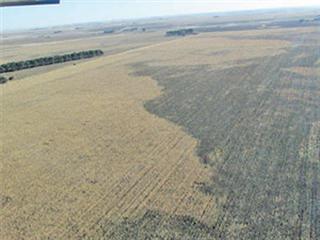 "I was part of a recent aerial inspection in Bultfontein and was astounded by the huge extent of the problem. It's difficult to quantify the damage, but I would guesstimate that as much as 30% of the yields in some of the affected lands were lost to the disease," he said.
Infection is characterised by the blackening of the plant stems, tissue disintegration and root rot. The disease is prevalent in the drier areas of the country and tends to flare up during times of drought when the plants are subject to moisture stress.
"The disease was last reported in Vredefort and Wesselsbron, but this huge outbreak is extraordinary. Not only is production severely affected, the stems are also weakened and plants are easily blown over by wind," said Geldenhuys.
Bothaville maize producer Hannes Haasbroek said it was virtually impossible to control the M phaseolina pathogen. "This disease has a very wide host range and occurs on all of the crops planted in our region, such as maize, soya beans, sunflower and sorghum, which cancels out crop rotation."