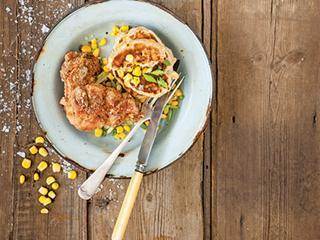 To make deep-fried chicken thighs and mealie fritters for four, you will need:
Chicken
8 to 12 chicken thighs, bone in, skin on
300g plain flour
1 tablespoon freshly ground black pepper
2 teaspoons salt
Canola or sunflower oil on demand
Mealie fritters
1 egg
180g canned mealie kernels (not creamed sweetcorn)
60g plain flour
2 tablespoons milk
¼ teaspoon of chili powder
½ teaspoon of ground cumin (jeera)
¼ teaspoon salt
We begin with the mealie fritters. Separate the egg, retaining the yolk and white in separate containers. Drain the can of mealie kernels. Pour the flour into a mixing bowl, then add the chili powder, cumin and salt. Drop in the egg yolk and milk and stir very well. Add the mealie kernels and the whipped egg white. Stir all this together, then reserve under cover for later.
Chicken time. Pour the flour, pepper and salt into a large Ziploc bag. Shake to mix the ingredients, then add the chicken thighs, close the bag, and shake more. Remove the floured thighs, knock off the excess and arrange on a plate under cover. Action stations! Deep frying involves some risk and mess. I deal with both by cooking outside in a deep cast iron pot with a fitted lid (not a potjie, a Dutch oven) over a controllable gas flame.
Pour fresh canola or sunflower oil into the pot to a depth of 30mm. Place the pot on the gas burner over a low to medium flame. The flame should heat the base only and not rise up the sides. Test the oil by dropping in a small piece of raw onion. If it boils and seethes, the oil is ready. Alternatively, use a thermometer. The oil is best at 180°C. Taking great care and standing clear, using tongs, lower the thighs into the hot oil. When the spattering dies down, let the thighs fry for 12 to 15 minutes.
If the pot is not big enough, do the thighs in batches. When cooked, remove them carefully and allow to drain on paper towel before storing in the oven at 70°C. Using the same oil at the same temperature and with the same vigilance, lower tablespoons of batter into the oil and fry until firm. Remove and drain on paper towel.
Take care when eating the chicken, which may be very hot inside the batter. This is because the cooking method crisps the batter and raises the interior temperature. The chicken steams in its own juices within the crust. In the remote event of the oil catching alight, switch off the flame and place the lid on the pot. The fire will be extinguished. This will not affect the flavour. Once the conflagration is history, continue to cook as before. Enjoy!

Contact David Basckin at [email protected]. Please state 'Real cooking' in the subject line of your email.