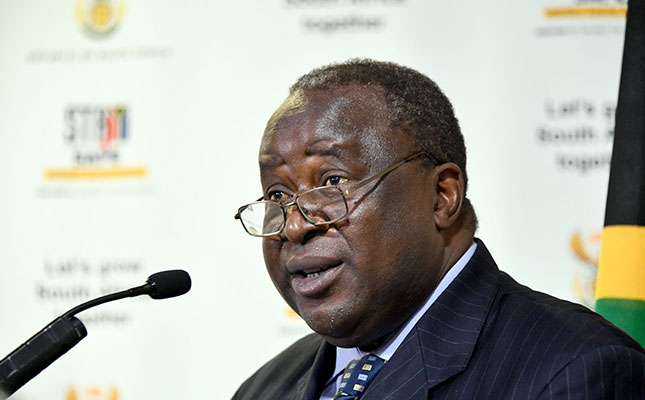 With the Minister of Finance Tito Mboweni due to present his 2021/2022 National Budget Speech on Wednesday, 24 February, stakeholders in South Africa's agriculture sector have expressed their expectations for this year's budget.
In a statement issued by Agri SA, the organisation's head of economics, Kulani Siweya, said that with the South African fiscus under severe strain and a further downgrade of the economy by credit ratings agencies to be avoided "at all costs", Mboweni's 2021/2022 budget speech provided an opportunity for a return to best practice.
READ Ramaphosa singles out agri achievements during SONA
This included the Minister using "the right instruments" to cut unnecessary expenditure "without fear or favour".
According to the statement, key hopes Agri SA had for the 2021/2022 national budget included "effective and speedy" support for the ailing Land Bank; reform of South Africa's electricity generation and supply sector to put the brakes on runaway rising power tariffs; and increased funding for land reform and for supporting emerging farmers.
In addition, Agri SA also hoped for funding and support for the establishment of an agricultural development fund that could leverage blended finance for the further support of emerging farmers; separating the diesel rebate system from the VAT rebate system for faster processing and pay-outs of diesel rebates; funding for the maintenance of road and other logistics infrastructure; plans for effectively dealing with corruption and poor service delivery; and limiting excessive increases to excise duties for the wine and tobacco sectors.
READ Electricity price hike: another blow for farmers
TAU SA's general manager, Bennie van Zyl, said he hoped that Mboweni would implement measures to seriously address the problem of misappropriation of government funds, which needed to be used for service delivery.
"[…] perhaps Minister Mboweni will surprise us this time with the right things like cutting government spending; providing meaningful plans to address state debt; placing a moratorium on salary increases for civil servants until the economy grows significantly; [… and] discontinuing policies, such as black economic empowerment and [land[ expropriation without compensation, that discourage investment."
Other wishes that Van Zyl expressed included sufficient funding to empower the South African Police Service to effectively do its work; establishing and maintaining infrastructure necessary for the economy to function; making provision for emergency support to food-producing farmers during times of disaster; ridding the civil service of incompetence; and making sufficient funding available to "once and for all" settle legitimate land claims.
READ Farmer organisations clarify opposition to new minimum wage
In his weekly Agricultural Viewpoint newsletter, Agbiz's chief economist, Wandile Sihlobo, said that in terms of the 2021/2022 national budget, "a vital point" likely to be watched by agricultural role players would be how the National Treasury dealt with the Land Bank's liquidity challenges.
"[…] in October 2020, […] Mboweni noted that the Land Bank would require an additional R7 billion over the medium term to support its restructuring. The Land Bank is an essential institution in agricultural finance, interlinked with primary agriculture and various [agribusinesses]."
Aggrey Mahanjana, group managing director of the National Emergent Red Meat Producers' Organisation, said "we pray" that Mboweni would not announce tax increases, as these would be "very detrimental" to the agriculture sector, which was already battling with increasing fuel and electricity price increases.
READ Sugar cane speedlings: the fast-track solution to quality seed cane
"We also want to see the budget for the newly announced land [and agrarian] reform agency. [We also] wish to see an increase in the land reform budget, and [funding] for [the] capacity-building, training and mentorship of emerging farmers," he said.
In a statement by the South African Cane Growers' Association, Rex Talmage, chairperson of the association, called on Mboweni to immediately decrease the Health Promotion Levy, or sugar tax, on sugar-sweetened beverages.
"The sugar industry is facing severe economic headwinds that threaten its survival, including the sugar tax, cheap sugar imports, and significant increases in the cost of production."
Thandokwakhe Sibiya, strategic support executive at the South African Farmers' Development Association, called on Mboweni not to increase the sugar tax for the next three years while the first phase of the Sugarcane Value Chain Master Plan to 2030 was being implemented.
"We would like to see a significant allocation of funds to the land reform mandate, especially funds that will be used to settle [land] claims, and resuscitate, operationalise and sustain land restitution farms that have collapsed," he said.