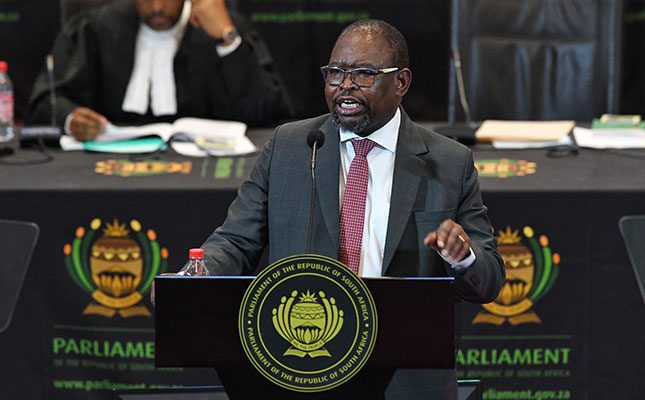 Dwindling income and increasing challenges have left Treasury with no resources.
Adding to, and compounding the problem is South Africa's medium-term economic growth outlook which remains weak as a result of the cumulative cost of load-shedding, a poor performing logistics sector, high inflation, rising borrowing costs and a weaker global environment.
During his 2023/24 MTBPS, Finance Minister Enoch Godongwana said that the main budget deficit had increased by R54,7 billion compared with the 2023 budget estimates.
Tax revenue collection targets have been revised down by more than R56bn for the 2023/24 financial year as the economy continues to underperform, forcing it to cut spending.
One of the casualties of the spending cut is Transnet, whose calls for nearly R100bn to fund its recovery plan fell on deaf ears.
Godongwana acknowledged that previously state-dominated sectors, such as Transnet and Eskom, would need to be liberalised and the private sector brought in.
Funding was, however, still needed to support the infrastructure, which Treasury admitted to not having.
Justin Chadwick, CEO of the Citrus Growers Association of Southern Africa (CGA), bemoaned that lack of funding support, since the industry was heavily reliant on infrastructure under Transnet's control.
He welcomed the call for privet investment, but said that government must provide the entity with the support it requires, with the understanding that public-private partnerships should be expanded without delay.
Those who would be receiving some of the little funds government would be spending were recipients of social grants.
Godongwana announced that the Social Relief of Distress Grant, instituted during the COVID-19 lockdown, would continue to be paid until 2025.
This would take the portion of income the government spends on grants to 61% of the national budget.
The minister also announced that R1,6bn would be made available to those affected by natural disasters as part of government's disaster-risk financing strategy which would address challenges posed by climate change.
More details will be made available next year.
Godongwana insisted that in spite of several challenges, the South African economy has shown signs of resilience with real GDP now exceeding pre-COVID-19 pandemic levels.
In the first half of the year, the economy grew by 0,9% in spite of record levels of load-shedding.
Sectors that had shown growth included tourism, construction, transport, communications and agriculture. The latter had expanded by 7,8%.