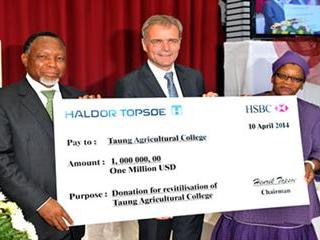 Deputy President Kgalema Motlanthe attended the recent handing over ceremony. "This college is not only going to produce students, but will also produce teachers who will go out to teach communities about the preservation of our natural resources. This is extremely important to ensure sustainable food production in our country," he said.
Situated close to Taung Irrigation and the Vaalhaarts irrigation schemes, the college has just been re-accredited by the Council on Higher Education to offer the NQF Level 6 Diploma in Agriculture, specialising in irrigation technology.
It also received an additional R30 million from government for infrastructure development projects.