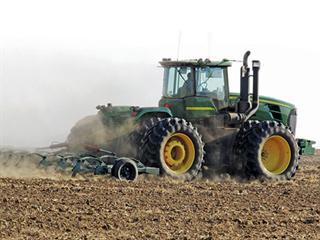 However, the livestock production areas of the south-western Free State and North West are still critically dry, according to Santam Agriculture's weather expert, Johan van den Berg. "Conditions are desperate. We've had reports of livestock succumbing to the drought. There is no grazing left and farmers are finding it exceedingly difficult to keep the animals alive," he said. Planting in the eastern production areas has been completed and producers in the Free State have started planting.
Grain producer Neels de Villiers from Ventersburg was among those who had started planting. "We've had between 140mm and 150mm in the past month. We've started planting soya beans to be followed by maize. The good rains mean that the soil moisture levels have been replenished considerably, but we will need ample follow-up rains to see the crops through to harvesting," he said.
Cattle farmer Tiekie Combrinck from Boshof has had no rain this season. "We have no choice but to sell our animals at any price we can get. A top-class pregnant cow can now be bought for as little as R4 500," he said. The largest part of North West remained perilously dry, according to Agri North West chairperson, Cor Janse van Vuuren.
"I do not want to sound unappreciative, but the government's drought relief measures are inadequate and too late. Fourteen bags of animal feed is the maximum an individual farmer is allowed, according to the number of animals he farms. "Smaller farmers will receive less. Given the fact that one bag will keep a mature cow alive for five days, it is clear that the relief won't go very far," he said.
Sporadic showers had fallen in the Leniesdeel area of the Vryburg district, according to farmer, PM Fourie. "I had 25mm about three weeks ago. Although it is still dry, conditions are no longer critical." Fourie added that farmers 20km away had not received any rain, forcing one of them to sell his land.