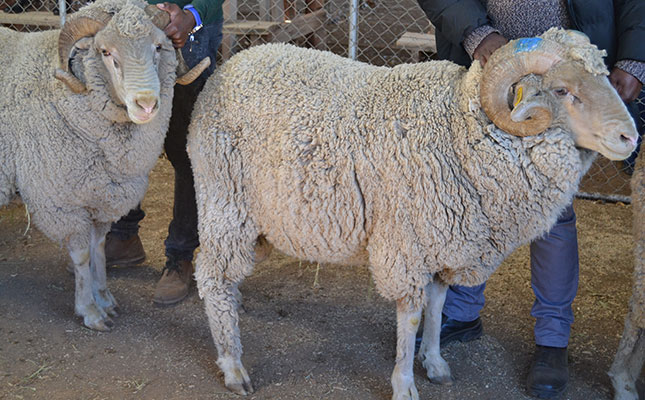 Time was running out to secure quality wool rams for distribution next year in a development programme targeting wool growers in communal areas.
General manager of the National Wool Growers' Association (NWGA), Leon de Beer, said they had still not received a response to an application submitted to government several times since last year asking for continued funding to meet the final target with their long-term ram project.
The project had been running since 2002. It was initially funded by the Eastern Cape government, but De Beer said since 2010 it had been funded by the former National Department of Rural Development and Land Reform.
He said he would be "bitterly disappointed" if a lack of state support meant they could not finalise the project.
"We have put 50 000 sheep in over the last 17 years and we want to reach a target of 80 000 rams. We still have 30 000 rams to go."
The ram project was run in conjunction with numerous other NWGA training and development initiatives targeting communal wool growers. How it worked was that poor-quality rams in communal flocks were replaced with rams of good genetic quality, contract-bred for this purpose.
Project costs had started at around R5 million a year at the outset and by last year had reached a cost of R12,5 million a year.
"The largest portion is spent on purchasing the rams and then there is also a transport cost, and a cost involved in the rams that we remove from the herds of the communities that need to go to the abattoir," De Beer said.
He was speaking to Farmer's Weekly following a recent flock competition hosted in Tarkastad for communal farmers involved in the project. According to a statement by the NWGA, judges and role players had been amazed at the improvement over the years.
"Judges Gawie van Wyk (NWGA production adviser in the Northern Cape) and Leon du Plessis from BKB in Cradock were impressed by the exceptional quality of animals and wool," De Beer said.
The NWGA said statistics showed in 1997/1998 that just over 200 000kg of wool produced by communal farmers had been marketed through the formal auction system, producing an income of R1,5 million. By 2012/2013, the volume from communal growers was at 3,5 million kilogram, with an income of more than R130 million.
During the past season of 2017/2018, about 5,4 million kilogram of wool was provided by communal farmers, with an income of nearly R384 million, according to the NWGA.
De Beer said if one used the minimum wage as a base to calculate job creation, the programme had created the equivalent of 9 000 jobs in rural communal regions.