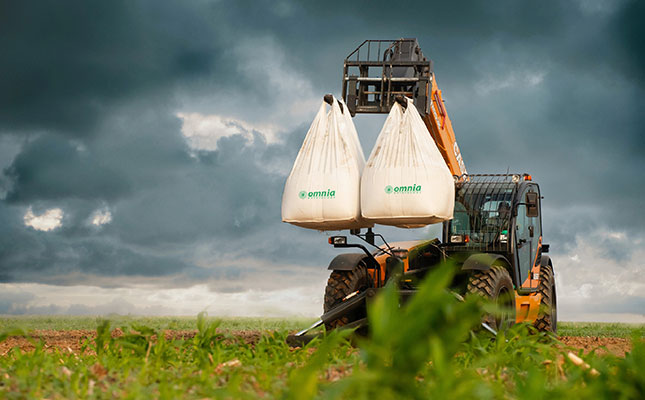 Omnia Holdings has been able to more than double its profits after tax from continuing operations to R467 million, according to its mid-term results for the period ending 30 September 2021.
The fertiliser, chemicals and explosives group announced on Monday, 22 November that its revenue from continuing operations increased 31% to R9,9 billion.
The company's net cash position stood at R719 million compared with a net debt position of R1,9 billion in the previous comparative period, with Omnia able to reduce its greenhouse gas emissions by 24%.
Omnia's agricultural division, comprising Agriculture RSA and Agriculture International, reported a 28% increase in net revenue to R5,2 billion, and a 15% increase in operating profit to R449 million for the period.
Stephan Serfontein, CFO of Omnia, said the global shortages of raw materials created a backdrop for Omnia to unlock value.
"When the local suppliers of ammonium expected shortfalls, we were able to import the needed materials. This put us on a better footing and enabled us to supply to our competitors," Serfontein told Farmer's Weekly.
"It also counts in our favour that we are able to move the raw material between our explosives and agricultural businesses."
The fact that Omnia's South African agriculture businesses were able to timeously procure raw materials at competitive prices led to sales volume growth. This, together with an overall rise in commodity prices, contributed to strong growth in revenue and higher gross profit, he said.
Serfontein added that he did not expect prices to decline soon, because indicators showed that demand was still robust.
"When we look at mechanisation figures, the sale of tractors is at an all-time high," he said.
The price of urea was also still increasing steeply at the time of publishing.
According to Serfontein, going forward, farmers had to evaluate their businesses and look at the inputs that were needed.
"It's crucial that a farmer should evaluate the soil before procuring inputs. Make sure that you put back specifically what your soil needs."
He added that Omnia had a positive outlook for its agricultural division for the rest of this financial year given continued strong demand for fertiliser.