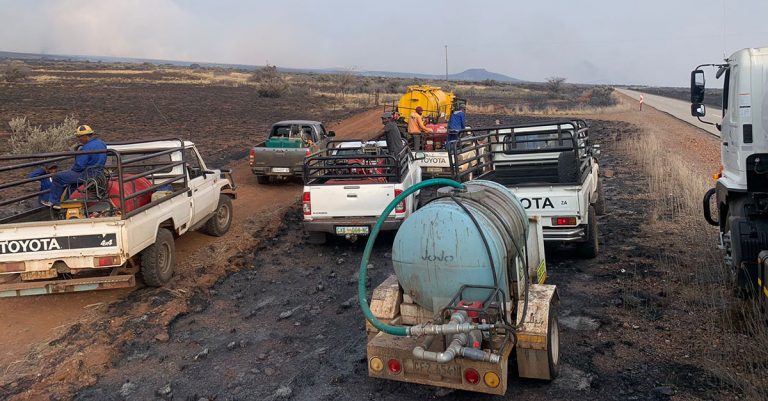 More than one million hectares of grazing have so far been lost to wildfires in the North West, Free State and Northern Cape this year.
In the latest wildfire in the Free State, between 25 000ha and 28 000ha, covering 53 farms, were burnt down in the Ventersburg area.
This brings the total number of hectares lost in the province to more than 300 000ha.
Dr Jack Armour, Free State Agriculture operations manager, said all indications were that it was the largest area devastated by wildfires in more than a decade.
By 13 August, 170 000ha had been burnt in the Northern Cape. However, a wildfire that was still burning in the Koopmansfontein area at the time of publishing, was expected to push this figure up to more than 270 000ha.
According to Nicol Jansen, Agri Northern Cape president, the fire originated along the R31 between Danielskuil and Kuruman.
"This fire was caused by human action. I hesitate to say it was arson, but it could have been someone throwing out a cigarette butt or making a fire. The fire is being [fanned] along by strong wind, and because of the high fuel-load, it is reaching extremely high temperatures, which is making it almost impossible to contain the flames," he added.
To date the North West had lost some 550 000ha, the Northern Cape about 270 000ha and the Free State well over 300 000ha.
According to Erich Stoch, chairperson of the North West Umbrella Fire Protection Association, conservatively calculated, the replacement value of the grazing lost to the fires in the province amounted to about R2,5 billion.
"The sad part is that the majority of the fires originates from the local road network. It can be ascribed to motorists discarding cigarette butts, people making fires next to the road, or from sparks emanating from vehicles.
"The situation is made worse by the fact that very few state and municipal entities adhere to the regulations as set out in the South African Veld and Forest Act to prevent fires.
"The lack of fire lanes and resulting thick vegetation along the roads significantly added to the inferno that struck our province this year," he added.