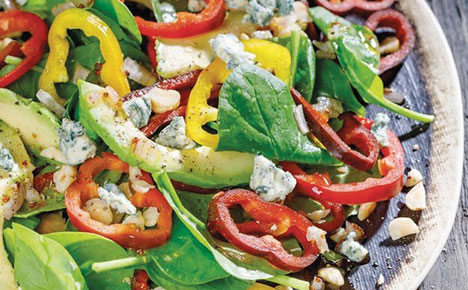 Spinach salad with Sweet Palermo peppers
INGREDIENTS
2 Sweet Palermo peppers, deseeded
1 avocado, halved, destoned and peeled
3 Tbsp hazelnuts, roasted
1 small red onion
4 Tbsp extra virgin olive oil
1 Tbsp sherry vinegar
1 tsp coarse mustard
1 tsp honey
200g baby spinach
100g blue cheese
METHOD
Slice the peppers into rings, and cut the avocado into slices.
Coarsely chop the roasted hazelnuts and set them aside.
Chop the red onion as finely as possible. Mix together the oil, vinegar, mustard and honey to make a vinaigrette. Add the onion and season to taste with salt and pepper.
Arrange the peppers, avocado and spinach on a dish, crumble the cheese over the top and then drizzle with the dressing. Garnish with the hazelnuts.
Grilled vegetables with Sweet Palermo peppers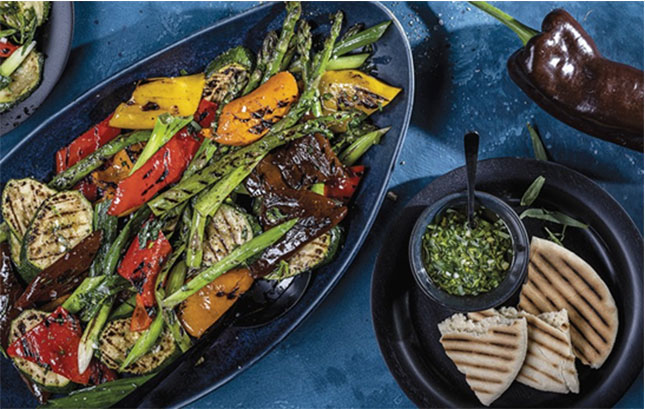 INGREDIENTS
6 baby marrows
1 yellow Sweet Palermo pepper
1 red Sweet Palermo pepper
1 orange Sweet Palermo pepper
4 spring onions
1 bunch green asparagus
9 Tbsp olive oil
15g fresh tarragon, chopped
1 small garlic clove, finely chopped
4 pita breads
1 tsp salt flakes
Fresh black pepper
METHOD
Cut the baby marrows into diagonal slices and the peppers and spring onions into pieces. Cut the green asparagus in half lengthwise. Using your hands, mix all the vegetables with 3 Tbsp olive oil in a large bo
Heat a grill pan on high heat, allowing it to become very hot. Grill the vegetables on both sides, and then continue cooking them on medium-high heat until soft.
Mix the tarragon, garlic and remaining olive oil well.
Toast the pita breads in a toaster until crispy and brown, and then cut them into triangles or in half.
When the vegetables have cooled slightly, place them on a large plate.
Drizzle with the tarragon-garlic oil, sprinkle over the salt flakes and black pepper, and serve with the toasted pita breads.
For more information visit www.rijkzwaan.co.za or email [email protected]