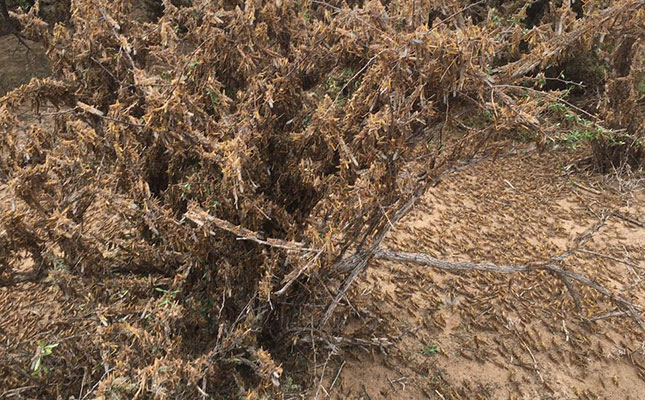 Farmers in the Murraysburg district in the Western Cape are currently experiencing the most extensive outbreak of locusts in the area since February last year, covering an area of 10km by 20km, and spanning four farms.
This was according to Jeanne Boshoff, spokesperson for Agri Western Cape, who said they had been grappling with locust infestations in the area for over a year.
READ SA on high alert for further brown locust outbreaks
Jaco van den Berg, a farmer in the area, said that between March and December 2020, about 3 400 locust swarms were sprayed in the Murraysburg district.
"This year, more than 1 500 swarms had already been sprayed by the end of February. In February alone, we sprayed just over 900 swarms in the district."
He said the swarms currently occurred in various developmental phases, with eggs hatching almost daily.
"At present, we are spraying seven days a week, but the terrain and the provided spraying equipment complicates the task at hand."
Van den Berg explained that those combating the locusts could not use vehicle-mounted or aerial spraying equipment due to the mountainous terrain, and therefore mainly used spray pumps carried on their backs, supplied by the Department of Agriculture, Land Reform and Rural Development's office in De Aar.
"This equipment is very old, about 25 years and older. In addition, the maintenance of the equipment is [poor]. Many farmers are fixing the spray [pumps] at their own expense and time."
He also pointed out that there was only a small window of opportunity of about three hours to spray the locust known as the flyers.
"If your equipment breaks [down], you easily lose an hour or more of the time you have to spray them. I have spoken to many sprayers who said that if their equipment had been more reliable, they might have had a better chance of eliminating the locusts."
He added that there was sometimes also a shortage of chemical pesticides used to combat the locusts.
According to Van den Berg, the district had experienced a severe drought, but received good rainfall in January last year. He suspected this was the cause of the outbreak.
Good regrowth of the veld occurred due to the rain, but that it was quickly consumed by the locusts. He estimated that 1 000 locusts consumed as much as one Dorper ewe could per day.
"In a swarm there are millions of locusts. It's basically as if another drought is hitting us, and it will have a great impact on our ability to recover and return to normal after the long drought we already experienced."
Watch video of a swarm of locusts on Jaco van den Berg's farm.