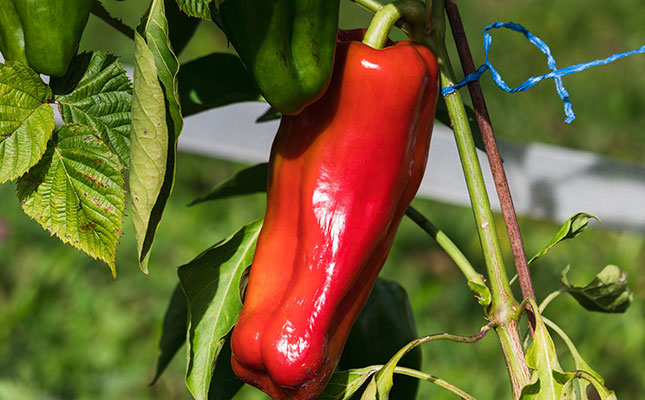 Opportunities exist for farmers and agro-processors to enter the small, but growing paprika market in South Africa.
This was according to Gerald Kennealy, director of Papriex, the largest processor of paprika in the country.
Papriex, based in Brits, North West, processed paprika into ingredients used in food, cosmetics and oil.
Kennealy said about 1 500t to 2 000t of paprika was produced in South Africa every year, but only 800t to 1 200t was available to local processors, with the remainder being exported.
In order to mitigate the supply shortage, Papriex imported around 1 000t of paprika every year from countries such as Zimbabwe and Malawi.
Kennealy said while he believed there was a market opportunity for agro-processors in South Africa, this would require between 4 000t and 5 000t of raw material to be processed into paprika powder and oil every year.
To achieve this, an additional 1 000ha of farmland would have to be planted to paprika.
Lucius Phaleng, a trade researcher at the National Agricultural Marketing Council (NAMC), said production challenges in South Africa included the perception that there were no markets for paprika products; agents and consultants not adding any value for farmers; prohibitively high input costs; poor choice of crop production sites; lack of access to working capital; and "historic overzealous and grandiose government projects".
While production was labour-intensive, the employment uptake could only benefit South Africa, Kennealy said.
"Cost of production per hectare [ranges] from about R20 000 (for a smallholder) to R65 000 (for a commercial farmer), depending on inputs. Fertilisers and pesticides are expensive, while seeds are cheap and available," he explained.
A large proportion of the paprika produced in South Africa was processed into spice and oil for exporting to Europe, the US, Mexico, the Far East and Middle East, he added.
Phaleng added that paprika was most successfully cultivated in the Vryburg, Stella and Tosca areas in North West, as well as in Marble Hall and almost the entire Highveld region of Limpopo.