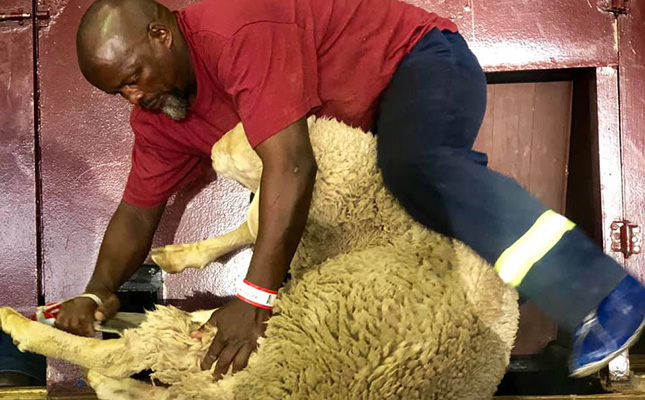 South Africans will now have to pin their hopes on two new blade shearers, Fickson Maqhosha and Bonile Rebela, to defend the country's title at the Golden Shears World Championship in Le Dorat, France later this year.
The pair finished first and second respectively in the South African National Blade Championship held at the Bloem Show in Bloemfontein this weekend, unseating current world champion, Mayenzeke Shweni.
Despite topping the log in the open blade event, Shweni finished third in the qualifying event and will therefore not be included in the team heading to the world championship to be held from 4 to 7 July.
National team manager of the South African Sheep Shearing Federation (SASSF) and head of shearer training at the National Wool Growers' Association of South Africa, Izak Klopper, said it was heart-breaking that Shweni was not on the team.
However, he said Maqhosha and Rebela were top contenders who had thoroughly earned their places on the team.
"If they were good enough to beat Shweni, they could be good enough to be [a] next world champion," he said.
In the machine category, first place went to Guillaume Strydom, with another favourite, Shaun Hamlet, also securing his spot on the South African team with his second place finish.
The wool handling team members are Franciska Flynn, who finished first, and Jan du Toit, who came second.
The team will be accompanied by two official judges, Jan Louis Venter as wool handling judge, and Piet Nel as shearing judge. Klopper will attend as team manager, and SASSF president, Eddie Archer, will serve as South Africa's representative on the Golden Shears World Council.
Archer previously told Farmer's Weekly that South Africa's shearers were well respected across the world, especially the country's blade shearers. "We are the reigning blade champions and have not lost that title since 1996," he said.
He said the competitive aspect of sheep shearing was important for the industry as it provided shearers with an opportunity to measure their skills against others.
Even more important, though, was the value of what was being taught during shearing training to the farmer.
"We don't teach them to race; we teach them to do quality shearing in as short a time as possible to enable them to earn a decent living," he said.