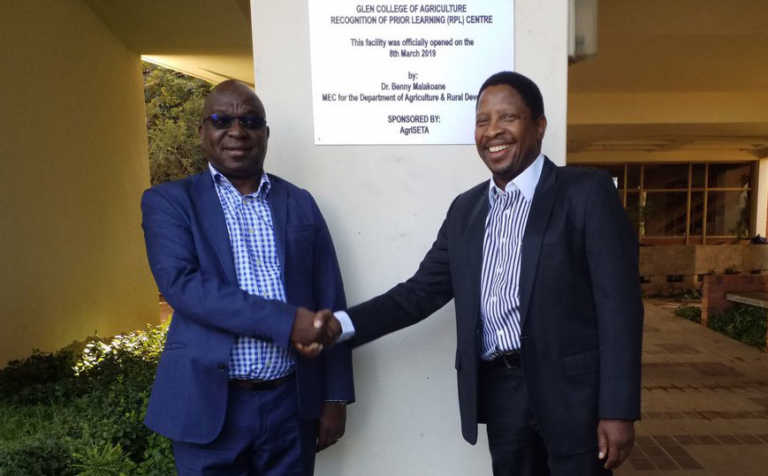 The Glen College of Agriculture near Bloemfontein has welcomed the first group of students to register for a 12-month diploma access programme at its newly launched Recognition of Prior Learning Centre.
The facility was officially launched by the Free State Department of Agriculture and Rural Development (DARD) at the college on Thursday.
A statement by DARD said the centre would provide farmers, farmworkers and members of the community, who had experience but no formal training, with an opportunity to access diploma programmes.
The college had already accepted its first intake of 11 students who did not meet minimum access requirements for enrolment into the diploma programme. They had been enrolled as "pre-access candidates", a system intended for those candidates who did not meet these requirements.
College principal Melvin Makungu said the centre would cater for three different prior learning areas. The first was a 12-month bridging programme for those who did not meet academic entry requirements for a diploma.
"We are putting them through an AgriSeta-accredited NQF4 National Certificate in Farming," he said.
This would be equivalent to a matric certificate, but training would be provided in the specific field required. Upon completion of the certificate, students would then meet the entry requirements for a diploma.
The second qualification was targeted at farmers with experience but no qualification, who could undergo relevant prior learning assessments to formalise their qualifications.
The third area was a certification for prior learning or qualifications that met the relevant criteria. For example, this could apply to a foreign national with a qualification from a different country that had to be certified according to South African standards.
Makungu said the centre represented hope for young people and dignity for older people who could now access formal recognition for the experience they spent years attaining.