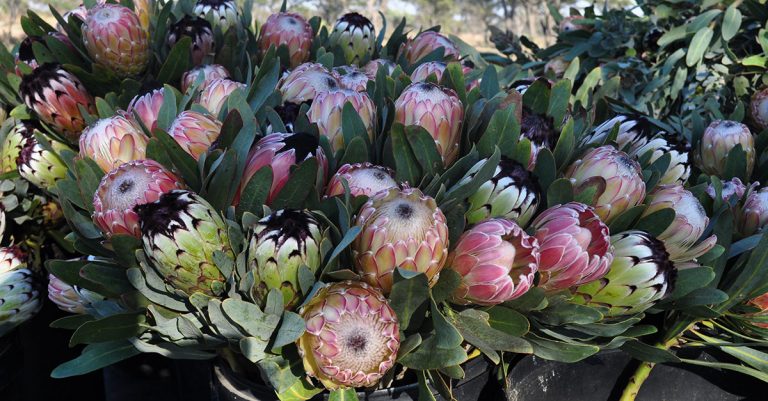 Although the recent travel and trade restrictions that resulted from the third wave of COVID-19 infections exacerbated the export challenges faced by the cut flower industry, it is expected that protea and fynbos exports will increase by more than 18% in the 2020/2021 season.
This was according to Karien Bezuidenhout, manager of Cape Flora SA, who said there had been some normalisation of trade since the COVID-19-related trade restrictions, but freight costs were still about 60% higher than before the pandemic.
Total protea exports for the 2020/2021 season were estimated at just over 7,1 million stems, up from just over six million stems in the 2019/2020 season.
Bezuidenhout said this could be attributed to new plantings coming into production and immature plantings coming into full production, as well as good rainfall across most of the production regions.
"The cold came at the right time, so there wasn't any damage. But the pincushion season is now well under way, so we are hoping for some good weather in the coming weeks as well. If we experience a sudden rise in temperatures [impacting on flowering], it can possibly lead to oversupply on specific markets."
She added that the industry's main markets were in Europe, followed by the Far East and then the Middle East. However, over the past five years, there had also been a strong increase in the local market, especially in the retail market.
Cape Flora SA was very optimistic about market conditions for the remainder of 2021, and Bezuidenhout said the pandemic resulted in many people working from home and having more family gatherings at home. As a result, it seemed as if people were trying to create a pleasant space at home by buying flowers and plants.
JP Snyman, director of Snyman Flora, a flower export company, said with regard to freighting, in some cases, space for produce such as cut flowers was more limited due to ongoing trade restrictions and sudden virus outbreaks around the world.
He added that logistics remained a challenge, and said it would take a long time for freight rates to normalise, or even get close to pre-COVID levels.
"Our figures for the first six months 2021 show an upward curve [of about] 22%, but [it is] still well below what [we achieved] in 2019."