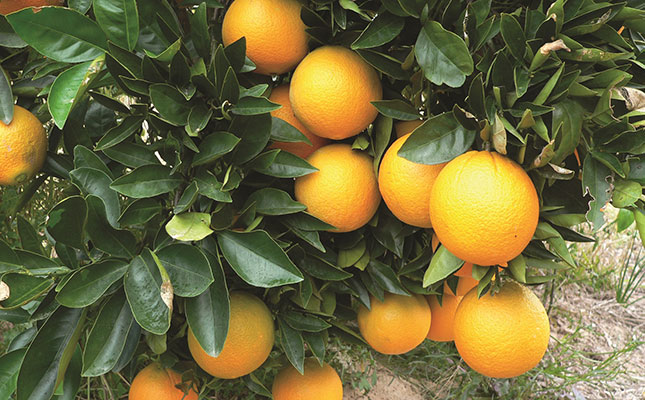 Industry stakeholders were forecasting that fewer than 20% of industry members would be able to achieve returns above break-even point by the end of this year.
Therefore, the CGA's Grower Development Company had pledged to invest R141 million to empower these growers between 2021 and 2024 through its Enterprise Development Grant Fund.
READ Botswanan citrus farmers join Citrus Growers' Association
This year, R40 million was allocated to 72 recipients across the country to mostly help with the procurement of key production inputs, including fertiliser and other agrochemicals, the statement said.
Despite the challenges faced by smallholder citrus producers, one of the grant recipients, Thabo Maripane, owner of Manini Holdings in Limpopo, said he remained positive about the future outlook for the industry.
"As an export product, citrus still offers many opportunities for producers over the long term. It is a relief to be partnered with an [organisation] that has been doing this for a long time."
READ Precision irrigation boosts yield on Mpumalanga citrus farm
Maripane said he was especially excited about the possible growth for exports to countries on the African continent.
"The organisation has helped us to select the latest varieties that are in line with market requirements. I believe this will give us a competitive advantage in the future."
He added that his grant funding was earmarked to expand his current orchards by an additional 70ha of citrus trees.
Tshililo Ramabulana, a board member of the CGA's Grower Development Company, told Farmer's Weekly that the expansion opportunities within Africa were mostly for citrus that did not "adhere to the strict rules of the European market".
"This is ideal for our black farmers who are only starting out. There are a number of companies that make use of South Africa's fresh produce markets to procure and export citrus into the rest of the continent."
READ Are national fresh produce markets coming to an end?
However, Ramabulana stressed that logistical systems for the transportation of fruit across South Africa's borders to countries elsewhere in Africa needed to be streamlined to ensure that fruit could be transported as quickly as possible.
"Active campaigns are also needed to promote South African fruit and vegetables within the greater African continent."
According to the trade information website, AgriHub, South Africa had already exported over two million 15kg-equivalent cartons of citrus to countries elsewhere in Africa during the first 41 weeks of 2022.
In 2021, nearly 1,8 million cartons were exported across the continent, with Senegal being the top export destination with just over 516 000 cartons.