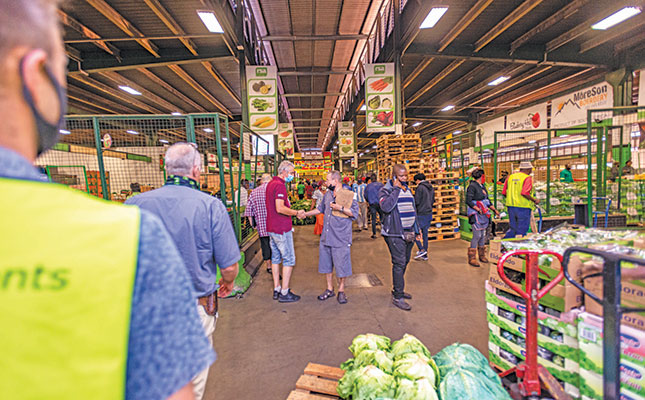 the failings within the national fresh produce market system are serious and well-documented. They include ageing infrastructure, poor management, unhygienic practices, lack of security, and questionable finances.
The question now is whether the success of the fresh produce industry as a whole is masking these problems, and how much longer the markets can stave off a collapse of the entire system.
Jaco Oosthuizen, CEO of RSA Group, is straightforward: he maintains that were it not for the strength of the industry as a whole, the country's municipal market facilities might easily have gone the way of other struggling state-owned enterprises, which are currently paying a heavy price for a lack of upkeep.
"The country's market network, despite its degradation, does a good job of servicing the needs of producers and buyers, which means the consumer has reliable access to fresh produce through retail and informal trade channels. South Africa's markets also serve producers and buyers from neighbouring countries, and handle large volumes of imported produce in counter-seasons from countries like Spain, Morocco, Egypt and Israel. Our national fresh produce market system is therefore key to securing successful income for food producers."
He adds that the markets also play a major role in national economic growth and development at both macro and micro levels, underpinning food security.
"These markets are of huge importance to all farmers, including back garden, weekend, rooftop, tunnel, one-hectare and mega farmers. They're also the ideal mechanism to ensure that the country can distribute fresh produce to all its citizens, no matter where they live, at prices that are governed by supply and demand."
Stanford Manthata, deputy director of marketing infrastructure and agro-logistics at the Department of Agriculture, Land Reform and Rural Development, notes that the markets play an especially important role in sustaining the informal economy.
"While large commercial producers would be able to work around the fresh produce market system should it fail them, emerging growers would be at a huge disadvantage. Similarly, the hawkers that currently procure their fresh produce from the market would have to find it elsewhere."
Clearly, with so much hanging in the balance, the future of the markets needs to be addressed as a matter of urgency.
Ageing systems
As most of the markets were built over 40 years ago, one of the main issues is dilapidated infrastructure that fails to conform to food safety standards.
Tommie van Zyl, CEO of ZZ2, says that the once-prized treasure of the South African fresh produce industry has, unfortunately, fallen into a state of disrepair, some markets more so than others.
"There has been little investment in new technology, and although current systems are functioning, markets have not kept up with new developments. A simple example is when we send a Santé tomato in 200g packaging and it gets booked in as a 500g cocktail tomato.
"The system is so outdated that the actual variety and packaging weight cannot be entered into the system. When the sale is made, the producer has to unscramble the egg to try to work out what the real return was.
"By now, one would have expected to be able to view sales in real time and have updates in real time on the stock levels. In addition, the different markets book the same item from the producer under a different code. Once again, the producer is left with the scrambled egg."
He notes that hygiene levels at some of the markets are highly concerning.
"If one takes into account the number of accreditations the producer has to go through, from GlobalGAP and BRC [British Retail Consortium] to RFA [Rainforest Alliance], to make sure that the product meets certain minimum standards, then one would have expected the markets to at least adhere to basic hygiene standards. Strictly enforced cleaning protocols need to be applied, and the market floors need to be enclosed in such a way that birds are kept out of the buildings."
Manthata agrees that hygiene levels and cleanliness at the markets are extremely poor.
"Cleaning protocols and a hygiene plan are absent, with cleaning done randomly. The cold rooms, ripening facilities, market floors, trading platforms and ablution facilities are very dirty and don't comply with food safety legislation.
"As a result, the majority of retailers and buyers are now sourcing directly from farmers due to concerns that markets don't comply with food safety standards. "Fresh produce sold through the markets cannot be guaranteed to meet all necessary food safety requirements, and the traceability of products has still not been introduced."
Manthata says that another problem arising from lack of upkeep is the absence of proper consignment control procedures. This leads to municipalities losing a certain portion of the revenue due to them, and at the same time experiencing a higher percentage of stock shortages and surpluses.
The level of safety and security at these markets has also come under fire. Access control, CCTV cameras, proper lighting and an emergency plan for the market are needed.
Manthata says that given the absence of adequate safety and security measures, buyers have been robbed inside market premises, cars have been stolen, and there are often consignment shortages in cold rooms, ripening facilities and on the market floor.
Key to addressing many of the issues that markets face is consistent, reliable management. Yet high vacancy rates have plagued the markets.
"Like a revolving door, the management of the markets comes and goes," says Van Zyl. "A good example of this is the country's largest market, the Joburg Market, which has seen more than 20 acting and new CEOs over the past 25 years."
Manthata adds that where market management exists, the bulk of managers are incompetent and lack the necessary skills to run the market efficiently.
"It has been observed [over] the years that in places where the position of municipal manager and chief financial officer are vacant, accountability and efficiency are non-existent at market management level."
Oosthuizen believes that without strong, consistent management, infrastructure across the municipal market network is unlikely to be maintained properly.
"The country's long-running challenges with electricity breakdowns and load-shedding could prove to be an ever more significant challenge to the market system, and threaten to magnify an already complex maintenance paradigm."
Sales on fresh produce market floors are facilitated by market agents, who simplify the transfer of fresh produce from the farmers to the buyers on the market floor. For this facilitation, the agents charge a commission for their service that ranges between 5% and 7,5% of the turnover per sale. In addition, the municipalities charge 5,7% (VAT included) on turnover for usage of the market facilities.
Van Zyl says the mismanagement of these funds is one of the greatest problems.
"Had these funds been used for maintenance and reinvestment into the markets, we would have clean, thriving, well-run markets.
"If one converts the commission that growers are paying for the space they are occupying, they could just as well have rented the most expensive space in a Sandton high-rise building."
Manthata notes that, considering the markets are generators of revenue, it is concerning that municipalities are unable or unwilling to reinvest a portion of revenue in market refurbishment and maintenance. This unwillingness could lead to a collapse of the markets.
"The generated revenue is diverted to social services within the municipalities, such as building clinics, and salaries for municipal staff, thus compromising the market infrastructure.
"These municipalities who own the markets are cash-strapped and give priority to social services. This is exacerbated by the fact that municipalities don't recognise the markets as their core mandate. In most cases, the top management of these municipalities don't even know that the markets are part of their function and that it's their responsibility to maintain them.
"The national norm, according to National Treasury's financial indicators, is that municipalities are required to spend 8% of their budget for repairs and maintenance.
However, municipalities are spending an average about 3,4%. This lack of investment in market infrastructure and refurbishments has led to the majority of buyers and farmers seeking alternative channels to source or deliver their produce."
No standardised by-laws
Market by-laws require the fresh produce markets to comply with certain pieces of legislation, including the Agricultural Product Standards Act, the Occupational Health and Safety Act, the Agricultural Produce Agents Act, and the Perishable Products Export Control Board Act.
While the markets are regulated by these laws, Manthata explains that there are no standardised by-laws, as each market drafts its own.
"Furthermore, these laws are outdated and haven't been reviewed for over three decades. The market by-laws need to be reviewed every five years, but the process is long and tedious. In addition, a lack of capacity to draft and update the by-laws is observed from management.
"Compliance remains a challenge as most markets hardly comply. This is exacerbated by management's lack of capacity to put systems in place and enforce compliance."
The way forward
Given the challenges faced by municipal markets, most industry experts agree that private investment is the only way forward.
Oosthuizen laments that it is unlikely that local government will have the capacity in the near future to invest adequately in upgrading facilities, IT infrastructure, food safety, logistics and additional resources to enable growth and sustainability.
"Private initiatives are developing momentum, however, by investing in trading platforms (physical and virtual) that enhance transparency and competition, reduce barriers to entry and leverage free-market principles. Private-sector players have already successfully opened new markets in regions such as the Vaal, Qonce, Mooketsi, Polokwane and others, and this trend is likely to continue."
Van Zyl believes that privatisation of the markets is their only hope. "A professional management team can be installed, technology upgraded and the infrastructure rejuvenated. If the 5% commission that the growers pay is used correctly, this rejuvenation of the markets is doable. This has been proved by Freshlinq, which took over a number of regional markets in Polokwane, Mooketsi, Nelspruit and the Vaal. It converted these markets into thriving local entities serving the communities, both buyers and producers, around them."
Manthata adds that a national body responsible for the management of the national fresh produce markets would go a long way towards holding all parties accountable.
"This entity should drive market developments, and coordinate, regulate and market the industry in partnership with all stakeholders, in order to maximise benefits to the overall fresh produce industry.
"They should also focus on eliminating the previous fragmentation in an effort to standardise and to promote accessibility. Such a body should work together with fresh produce markets and industry stakeholders to address national or provincial issues that are currently not attended to or given much attention."
Oosthuizen says that strong engagement between all stakeholders, including leading industry bodies and government, is crucial.
"This was a positive feature of our industry's response to the COVID-19 pandemic, so it
has been proved that we have the ability and capacity to share information and resources and work effectively together. The question is whether the industry can achieve the same level of interaction proactively, rather than as a response to a crisis."
Email Tommie van Zyl at [email protected], Jaco Oosthuizen at [email protected], or Stanford Manthata at [email protected].