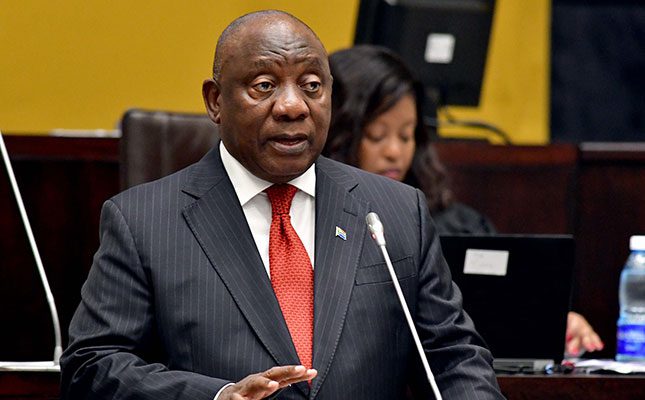 He said the Bill, which was currently in front of the National Council of Provinces, aimed to make it easier for government to expropriate land for just or nil compensation in the public interest and for transformation purposes.
He pointed out that expropriation at just or nil compensation was a practice in many other countries, including the US, the EU and Japan.
Ramaphosa added that the Bill should not undermine investor confidence, as South Africa was a constitutional state. He said that people who were unhappy with a decision regarding expropriation were able to seek justice from the judiciary system, unlike during the apartheid era when people were forced off their land without any compensation.
In response to questions about the constitutionality of the Bill, Ramaphosa said the Bill had to be approved before the National Assembly and could still be adjusted a few times before it would reach his desk for approval.
"If I have reservations about the constitutionality of a bill once I receive it, I am constitutionally obliged to send it back to this house first. The Constitution only provides for a role for the court if I am not satisfied with the constitutionality of a bill after this house has reconsidered it," he said.
Various agricultural role players have submitted comments over the Expropriation Bill to the National Council of Provinces.
Agri SA was "particularly concerned over the definition of expropriation as well as Section 12, which dealt with compensation for expropriation", arguing that the Bill would weakened property rights, make it exceedingly difficult to raise capital and ultimately affect food security in the country.
"The Bill undermines the very objective it seeks to achieve: the transformation of the agriculture sector. Without constitutionally protected property rights, fewer emerging farmers will be able to access the capital needed to build sustainable farming operations," Agri SA said.
Bennie van Zyl, general manager of TLU SA, said that expropriation without compensation was unconstitutional, disastrous for the economy, fatal for food security and would be stealing every young South African's future.
"Who wants to invest money in a country where there is a law that says the state can take your land without compensating you?" he asked.
Annelize Crosby, head of legal intelligence at Agbiz, pointed out that the Constitution had not been amended, so any expropriation would have to comply with the requirements of Section 25. In other words, it had to be just and equitable, taking all relevant factors into consideration.
She however also felt that the definition of expropriation and the wording of nil compensation had to be clearer.