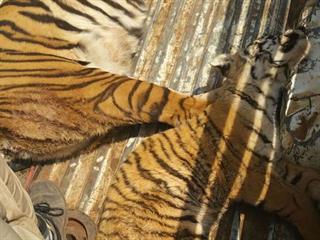 Van Jaarsveld told Farmer's Weekly that a meeting with the South African Police Service (SAPS) livestock theft unit was scheduled for 5 October to discuss the matter.
"The SAPS livestock theft unit handles protected species. There have been 15 crocodiles poisoned in Letsitele, and seven lions in Grobersdal. We suspect the muti trade, as the paws and heads [of the lions] were cut off," Van Jaarsveld said.
He added that a tigress and her cub had been poisoned in Roedtan.
According to Van Jaarsveld, crocodile poisoning was prevalent in areas where fish poaching was prominent, as crocodiles often disturbed fish poachers and were subsequently poisoned. Poachers were also allegedly selling crocodile body parts.
In separate news, Van Jaarsveld said that Agri Limpopo was working with farmers and organisations such as AFASA and NERPO to establish a game and livestock theft prevention forum.
Head of #king of beasts removed by its poisoner. Muti killings in Limpopo. @willemsjoy @TheoDJager @FarmersWeeklySA pic.twitter.com/SeFGsa8o8d

— AgriLimpopo (@agri_limpopo) September 28, 2016
Poisoned meat used by #fish poachers to kill #crocodiles threatening their activities. @TheoDJager @FarmersWeeklySA pic.twitter.com/dWw1Xgq9lt

— AgriLimpopo (@agri_limpopo) September 23, 2016
Poisoned crocodile with head removed! Letaba area. Massacre continues. @TheoDJager @willemsjoy pic.twitter.com/u5pSIcCwxh

— AgriLimpopo (@agri_limpopo) September 20, 2016