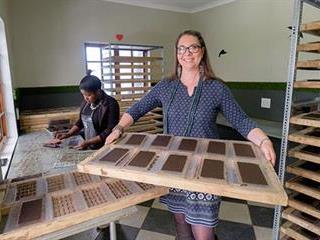 Jacobs was recently named the Sanlam and Business Partners Limited 2016 Emerging Entrepreneur of the Year for her product.
She spoke to Farmer's Weekly about her seed slabs and the organic food movement.
How does the seed slab work?
Each block contains heirloom seeds, which are open-pollinated seed varieties. The seeds are embedded in a bio-degradable, pre-fertilised growing medium and can be planted directly into the soil.
The blocks are designed to be the exact thickness to position the seed at the optimal planting depth. This protects germinating seeds from pests and anchors the roots.
How do you think the organic food movement is changing agriculture in South Africa?
The organic movement has been gaining momentum for the past 15 years. However, I've found that in the past five years South Africans are really becoming aware of the health and taste benefits of organic produce. This trend also seems popular among consumers who have a particular interest in protecting the environment.
How can more people be encouraged to grow their own food?
If you equip people with the knowledge to do something and make it easy, you are half way there. The second aspect is motivation and what drives a person to action. The cost of food is a major incentive for people to grow their own food.
Consumers do not realise how much food they can grow. Just one spinach plant can yield up to 2kg of spinach and one tomato plant can yield more than 50 tomatoes.
A single cucumber from a retailer could cost about R10, but if cucumber seed is planted in a food garden the vine will bear about 15 cucumbers. This will reduce the cost of a cucumber to less than 60c, which is more than a 75% saving.