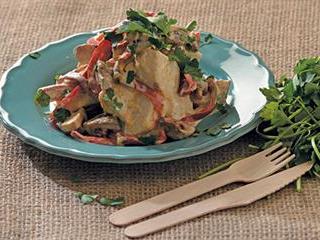 To make amadumbe in a creamy sauce for four hungry diners, you will need:
1kg amadumbe
1 punnet of button mushrooms
1 large red sweet pepper
3 tablespoons butter
4 tablespoons extra virgin olive oil
½ cup Parmesan
1 clove garlic
A couple of shakes of white pepper
A generous sprinkling of freshly ground, coarse black pepper
2 cups thick cream
½ to 1 cup of dry white wine
We have three processes here: boiling the amadumbe, roasting the mushrooms and sweet pepper, and, finally, making the sauce.
First, the amadumbe. Bring a large pot of lightly salted water to a rolling boil, then drop in the peeled amadumbe. Cut the heat to a medium simmer, and let them cook for 15 minutes or until tender. When done, drain and reserve under cover at room temperature.
Next, the roasted vegetables. Preheat your oven to 220°C, then rinse and halve the button mushrooms. Top, tail and deseed the sweet pepper, then cut it into 5mm-wide strips.
Drop these into a deep bowl, add two tablespoons of olive oil and shake. Arrange the lightly-coated mushrooms and sweet pepper strips in one layer on a large baking sheet, sprinkle with coarsely ground black pepper, and roast them in the oven for 15 minutes, turning once. Remove and reserve.
Sauce time. Select a medium saucepan or frying pan. Bring this up to a medium heat and allow the three tablespoons of butter and the remaining two tablespoons of extra virgin olive oil to combine.
Crush, peel and finely chop the garlic before frying, and then carefully add the white wine.
Stir well and let it reduce by boiling. Be alert during this process to avoid burning, as all it takes to mess up this whole process is one little bit of carbonised garlic. Lower the temperature and carefully stir in the thick cream.
Maintain the stirring plus the anti-burning vigilance and, once again, let the liquid reduce in volume.
The general idea of all this reduction is to thicken the sauce. Thick sauces are sticky, and we want it to coat and adhere to the vegetables. Stir in the grated Parmesan cheese and white pepper.
Select a large mixing bowl. Pour in the cooked amadumbe, the roasted mushrooms and sweet pepper, and, finally, the gloriously thick white sauce.
Stir well, but gently, to evenly distribute the sauce without breaking up the soft amadumbe. Some parsley scattered over each plated serving provides a pleasing touch of green, and a chilled Chenin Blanc adds to the aesthetic overload.
David Basckin is a freelance journalist and videographer.