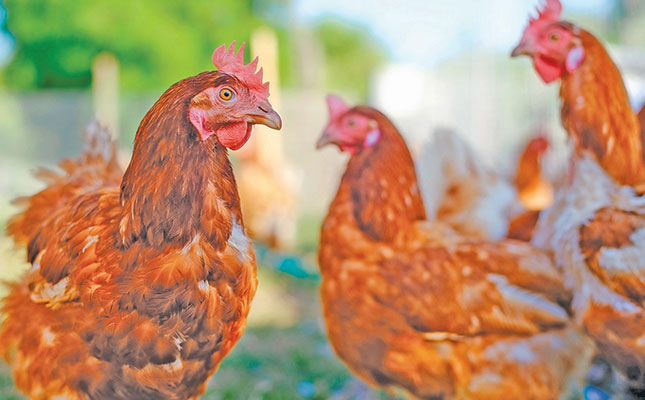 A second case of highly pathogenic avian influenza (HPAI) has been reported on a North West broiler breeder farm, where 14 000 birds have been culled.
This follows the confirmation of an HPAI outbreak on a commercial chicken layer farm near Ekurhuleni in Gauteng earlier this month.
According to Colin Steenhuisen, acting general manager of the South African Poultry Association's (SAPA) Egg Organisation, the strain of the virus in the first outbreak had been identified as HPAI H5N1. He said the responsible decision had therefore been made to cull all 240 000 hens on the farm.
He explained that although this was not the same strain of the virus that severely affected the local industry in 2017, the outbreak was being treated as extremely serious, and the poultry industry remained on high alert, with quarantine protocols remaining in place.
In response to the outbreak, Namibia banned all imports of poultry products from within the area of the first outbreak; Lesotho banned egg imports from Gauteng; and Mozambique banned all poultry meat, eggs and feather imports from South Africa.
After initially banning all imports of poultry products from South Africa, he said Botswana had now relaxed restrictions and will be resuming imports from avian influenza-free areas.
According to Steenhuisen, Dr Mpho Maja, director of animal health at the Department of Agriculture, Land Reform and Rural Development, was continuing discussions with all neighbouring countries to minimise the impact on South African exports of poultry products.
He again urged all poultry farmers and other keepers of poultry to familiarise themselves with, and implement the highest-level biosecurity protocols, to protect not only their flocks, but South Africa's poultry industry as a whole.
Farmer's Weekly previously reported that the department was conducting a tracing programme to determine the source of the outbreak, but Steenhuisen said the role of migratory wild birds in the spread of the virus had been proven.
Keeping poultry flocks in covered areas was therefore recommended to avoid possible contamination.
The World Health Organization and the World Organisation for Animal Health had been advised of the outbreaks, and had confirmed that this particular strain of the virus was not dangerous to humans, he said.
"Consumers are reminded that meat and eggs on [supermarket] shelves are safe for consumption as long as normal food-safety steps are followed when preparing meals," said Steenhuisen.