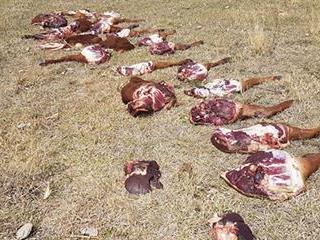 Lomon Terreblance, Edenville Farmer's Association's safety co-ordinator, attributed the arrest to good co-operation between the SAPS and farmers.
The criminals had been targeting the area for the past few months.
"Six perpetrators were apprehended after two separate incidents in Edenville where sheep and cattle were stolen," said Terreblance in a statement.
Another four alleged stock thieves were arrested during the same time in Brandfort, said FSA Safety and Security chairperson Tommie Esterhuyse.
He said the group was caught while trying to steal 43 cattle.
Esterhuyse praised the SAPS officers who went above and beyond the call of duty to apprehend the thieves.
"We've been informed that in one case members of a stock theft unit walked 22km to get to a stock theft scene," said Esterhuyse, adding that the shortage of SAPS vehicles in the Free State remained a problem in the fight against crime.