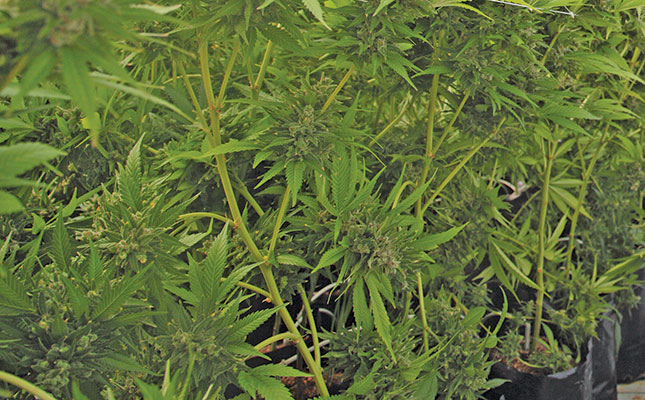 Greekson Zweni, director and chairperson of the Umzimvubu Farmers' Support Network, said the legalisation of cannabis for personal use was taking its toll on traditional cannabis farmers in the Eastern Cape due to lower prices.
Since the Constitutional Court ruled in 2018 that the use, possession and cultivation of cannabis in private dwellings was not illegal, prices had fallen from about R2 000 per 20ℓ container to R200.
READ 'SA well-positioned to become leader in cannabis production'
These farmers had, for many generations, grown cannabis for spiritual and cultural purposes, and also to feed their livestock.
Zweni said farmers had suffered huge losses in the past when government destroyed their crops with aerial herbicide applications.
In more recent times, cannabis had generated an additional income for them through sales to people in townships and at taxi ranks.
"Now, however, they are sitting with cannabis that cannot be sold, because everybody else is able to produce it," Zweni said.
The farmers blamed government for the situation.
"We and various other community organisations have asked government on numerous occasions to consult with the communities and take them into consideration when drawing up these new [laws] and the [Agriculture and Agro-processing] Master Plan, but all to no avail," Zweni said.
READ Growing medical cannabis: A capital-intensive venture with big returns
Ricky Stone, an attorney at Cullinan & Associates, representing the Umzimvubu Farmers' Support Network, said it was easy to say that these farmers needed to apply for licences to produce cannabis for medicinal purposes, but they simply did not have the financial means to do so.
"The majority of these farmers don't even have access to running water and electricity. Expecting them to pay R25 000 just to make an application to produce medicinal cannabis is ludicrous, never mind getting the R10 million required to start a business that would qualify," Stone said.
He conceded that the barriers to entry were much lower for the production of hemp, but submitting an application was still too expensive for many farmers, with the requirement for fencing further driving up costs and going against the customs of these farmers.
"Instead of licensing farmers, government should rather look at a model where users or buyers are licensed. It is against the spirit of ubuntu to have farmers on one side having a licence to produce cannabis, while their brothers or cousins on the other side are not allowed to do so," Stone said.
Along with this, he pointed out that prices of cannabis used for industrial purposes were significantly lower than for cannabis used for medicinal purposes, meaning that farmers had to produce significant volumes to make money from such a venture.