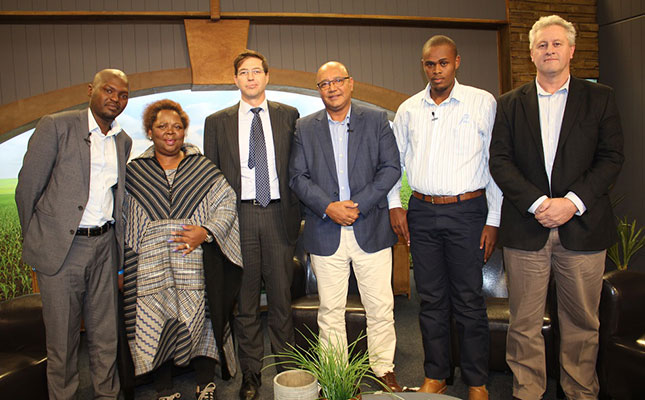 Confusion about the powers and functions of South Africa's traditional leaders and government ownership of communal land came to the fore at a recent panel discussion between agricultural role players.
The discussion, which focused on the role of communal land in agricultural development, took place during a session of Nation in Conversation at Nampo Harvest Day near Bothaville on Wednesday.
The panel consisted of Nkosi Minenkulu Joyi, a traditional leader from the Baziya Traditional Council and Royal House of Joyi; Gloria Serobe, executive director of Whiphold and CEO of Wipcapital; John Webber, director at Cliffe Dekker Hofmeyer's Real Estate; Sinelizwi Fakade of Grain SA's  farmer development programme; and Dan Kriek, president Agri SA.
Nkosi said that rural communities in the Eastern Cape were an "eyesore" due to the legacy of the past, which had left the region without adequate infrastructure such as roads, bridges across the many rivers in the region, and proper sanitation systems, among other challenges.
"In addition, we also have to deal with the socio-economic legacies of the past. I [therefore] want to make a call to business to invest in the Eastern Cape."
Despite these drawbacks, Sinelizwi said Grain SA's projects in the Eastern Cape had proven that the region "will probably be agriculture's next big thing in terms of grain production". He invited business leaders to "come and explore the area for themselves".
Serobe shared the success that her organisation had achieved with maize and soya production in the region, despite local farmers not having security of tenure. Addressing Nkosi, she said: "You and the government must sort out the issue of traditional land ownership."
In response, Nkosi said political parties tended to make "grand claims about land ownership to serve their own needs during election time".
Webber said that while Cliffe Dekker Hofmeyer's Real Estate had established a model in which security of tenure was established on the basis of long-term leases, it was very difficult to overcome tradition and community values.
Dan Kriek said that there was currently a strong drive from Agri SA to get involved in these areas.
"We've always had a policy but we've never been deeply or actively involved. Over the last year, we've been meeting communities and traditional leaders in an effort to understand their needs and it has been a humbling experience."