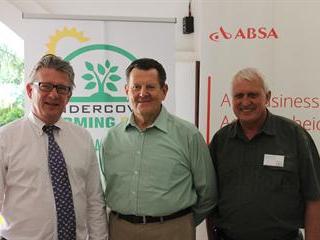 Speaking at the media launch of the event, organiser Johan Swiegers highlighted the importance of undercover farming. "The renewed focus on the use of water by agriculture may force open land producers to consider alternative ways of remaining in agriculture – such as switching to intensive farming."
Ernst Janovsky, head of Absa AgriBusiness, one of the sponsors of the event, added that farmers had to become more efficient as there was not enough soil to sustain population growth. "Undercover farming is a hidden industry that will continue to grow, especially as technology is becoming more familiar to farmers and consumers.
"Farmers need to consider how the technology at their disposal will be best put to use to increase production."
Niek Schelling, agricultural counsellor at the Netherlands embassy in Pretoria, noted that the Netherlands is the biggest importer of fruit from SA. He emphasised that if farmers wanted to remain successful in such highly competitive markets, they needed to improve their levels of technology and organisation within the horticulture value chains.
SA currently has 1000ha under tunnels and 5000ha under shade netting and the event aims to serve these farmers with information that should enable them to overcome hurdles created by inflation, exchange rates and wage laws.
Some 60 exhibitors, including 12 Dutch companies and research institutes, will have the latest technology on display.
The event will also host workshops for emerging farmers which will be facilitated by the Gauteng department of agriculture.
Twitter: @Lindi83