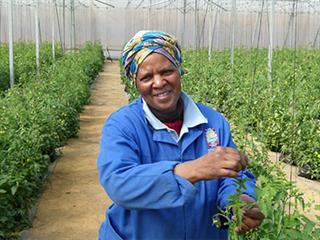 BCOP vice-chairperson Nomonde Ndarana said the award came as a surprise, but that the 16 co-op members and their 16 employees were very proud of the accolade.
She explained that the co-op, which has been growing organic vegetables in members' gardens at home, started producing hydroponic tomatoes in 2009 after taking advantage of an urban agricultural initiative using tunnels to farm in urban areas.
She emphasised the importance of education and good management in ensuring the production of high-quality tomatoes for commercial sales. "My advice to somebody who wants to engage in tomato production using tunnels is first to learn about hydroponics, because there's a lot of things to do in tunnels," she said. "Everything must be managed and you must monitor the production constantly to ensure you get good quality vegetables."
The awards were instituted in 1999 with the aim of encouraging increased female participation in agriculture and serves as an empowerment platform in recognising entrepreneurship skill of female farmers.
Other winners were Landezwa Gidi (Best Female Farm Worker); Zanele Lawana ( Best Subsistence Producer); Arcstone 7cc (accepted by Lungelwa Kama) for Top Entrepreneur: Smallholder, Ikamvalethu Bee Keeping (accepted by Zanele Soyizwaphi) for Top Entrepreneur: Processing and Willow Tree Citrus Farm (accepted by Buyiswa Ndyenga) for Top Entrepreneur: Export Markets.
BCOP secretary Vuyseka Phethe, accepted the award for Top Entrepreneur: Commercial and together with the winners of the other categories will represent the Eastern Cape at the national awards to be held on 23 August in Johannesburg.