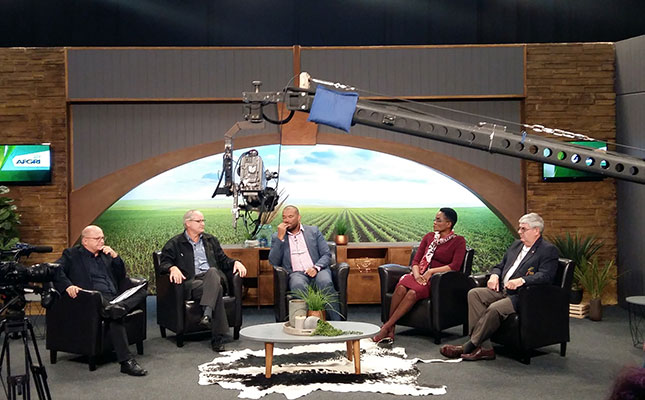 To improve service delivery and overall performance by the departments of Agriculture and Rural Development and Land Reform, President Cyril Ramaphosa should consider merging these two departments, says Dr John Purchase, the CEO of the Agricultural Business Chamber (Agbiz).
Purchase would also like to see the president appointing stronger leaders in the agriculture and land portfolios.
"I would like to see an amalgamation of a number of departments, and the agriculture and rural development and land departments are certainly among those that could be restructured. Similarly, departments in the economic cluster, such as the economic development, trade and industry or small business portfolios, could benefit from some consolidation," Purchase said during a Nation in Conversation panel discussion at Nampo Harvest Day in Bothaville.
"For a long time now, we haven't really had people with much knowledge about agriculture in top leadership positions at the Department of Agriculture, Forestry and Fisheries (DAFF) and the Department of Rural Development and Land Reform (DRDLR). Sometimes I get the feeling that agriculture is perceived by the Presidency as a minor ministry, and as a result, candidates appointed by the Presidency in ministerial roles in the department have not always been the strongest leaders."
Purchase said he strongly believed that agriculture could and should drive economic development and employment growth in rural areas. However, to unlock the sector's potential the infighting and poor coordination within and between DAFF and the DRDLR had to be stopped by merging the departments into a single, better-governed portfolio.
According to Purchase, South Africa was emerging from a period during which business was regarded as the enemy by many leaders and officials in the public sector.
"But now, thanks to new developments, such as the Public-Private Growth Initiative (PPGI), there is a realisation both from the public and private sectors that the growth trajectory South Africa has been on these past years has been negative, both for agriculture and the wider economy.
"I think we are moving closer towards a realisation that business and government need each other if we want to move the country forward," he said.
But, Purchase added, performance and accountability within government needed to improve to ensure that policies aimed at promoting economic growth and job creation were properly implemented.
Rudi Dicks, an outcomes facilitator for economy and inclusive growth at the Department of Planning, Monitoring and Evaluation, who was also participating in the panel discussion, acknowledged the concerns raised by Purchase and said the new government, under the leadership of Ramaphosa, would not allow the "situation of poor performance and low accountability" to continue.
He said that the PPGI, which is convened by Minister in the Presidency for Planning, Monitoring and Evaluation, Nkosazana Dlamini Zuma, was a unique initiative in which leaders in the public and private sectors will "look at how we can collectively grow South Africa's economy".
"This [the PPGI] is a long-term project, not a one-time event," said Dicks.