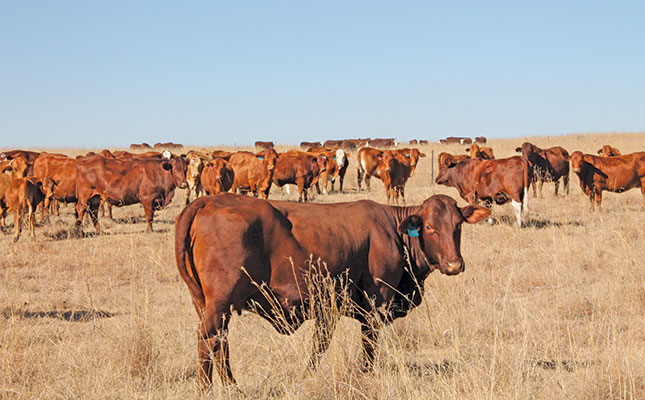 Lumpy skin disease (LSD) has been reported in all provinces since the start of the year, with communal farmers in the Eastern Cape and KwaZulu-Natal being most affected, according to Dr Danie Odendaal, director of the Veterinarian Network.
Odendaal said that the viral disease, typically characterised by nodules and lumps on the skin of affected cattle, was transmitted by biting flies, insects and some ticks, and would likely subside in the summer rainfall region as the cold set in and these vectors disappeared.
"The outbreaks this year occurred later than usual in the summer rainfall region, from February and March, because of dry spring conditions. Outbreaks will start again in the winter rainfall region, towards the end of the rainy season and as temperatures get warmer, usually from around September to November."
He warned that good biosecurity was not sufficient to protect animals, because the vectors that spread the disease could travel vast distances.
According to him, vaccination provided the best protection.
"Farmers should vaccinate unvaccinated cows against the disease, and vaccinated cow's calves should be vaccinated from six months of age. These animals should receive a booster a year later as per instruction of the specific vaccine. Two vaccinations per animal should give life-long immunity," Odendaal said.
In a pamphlet on LSD, the Department of Agriculture, Land Reform and Rural Development said that calves from unvaccinated cows would not be protected by their mother's milk against the disease, and therefore needed to be vaccinated for the first time earlier than six months.
Meanwhile, the Ruminant Veterinary Association of South Africa has warned farmers not to vaccinate animals during an outbreak on their farms, as the disease could be transmitted via needles.
Masiza Mazizi, spokesperson for the Eastern Cape MEC of Rural Development and Agrarian Reform, confirmed that all the districts and metros in the Eastern Cape were affected by LSD this year, with Mnquma, Gquebera, Komani, Nquanqarha reporting the most outbreaks.
He said that the severity of the outbreaks differed from one epidemiological unit to another.
"It is difficult to quantify the number of mortalities, as not every death was reported even though lumpy skin disease is a controlled animal disease and therefore should, by law, be reported to a state veterinarian. Most of the reported cases in the Eastern Cape, however, were mild with no massive deaths."
Even if not fatal, however, LSD caused huge financial losses for farmers. According to the department's pamphlet, it could affect up to 45% of a herd, and caused abortions, reproduction problems, a marked reduction in milk production, a loss of body condition and damage to hides. Mortality rates could reach up to 10%.
There was no cure for LSD, and only supportive therapy could be provided to infected cattle. These usually consisted of the administration of antibiotics, anti-inflammatory drugs and vitamin injections to prevent secondary infection, inflammation, and fever and to improve the appetite of the animal.