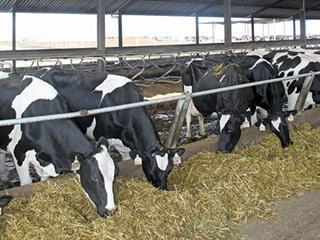 The Vrede Dairy Project is shrouded in secrecy and little is known about why the Free State provincial government agreed to fund 60% of the project's cost over a three-year period, according to the DA.
The 100 local beneficiaries, about whom very little information is available, will reportedly jointly receive a share of only 51%, while India-based company Estina and its local partner, Paras, will have a 49% share, despite contributing only 40% of the funds.
READ: Free State grain farmer discusses farming practices
Roy Jankielsohn, DA member of the Free State legislature and the Agriculture and Rural Development Portfolio Committee, also questioned whether the Free State provincial government was not overspending on the Vrede Dairy Project.
Free State MEC for Agriculture and Rural Development, Mamiki Qabathe, indicated that the project, which commenced in 2012, will be completed by July 2015. At the end of last year, a static 10-point milking parlour had been completed, but the 72-point rotary parlour still had to be equipped. About 351 Holstein cows of differing ages had been bought for R6,2 million, an average of R17 600 per cow.
READ: High-volume Holsteins on the West Coast
Vrede Dairy Project construction costs
The project's first cowshed, which was completed in November, has the capacity to house 500 cows. The design makes provision for the construction of another three cow sheds of the same size, and the eventual construction of a biogas plant.
According to Dr Koos Coetzee, chief economist of the Milk Producers' Organisation (MPO), a commercial dairy enterprise needs at least 250 to 350 cows in milk at any given stage to be economically viable, which implies a total herd of 500.
"Obviously, the required investment amount will depend on whether the enterprise is financed with available cash or with loans on which interest should be paid," said Coetzee.
He was reluctant to confirm an exact rand value for establishing a dairy enterprise of this size, but the figure he estimated was approximately a tenth of the Vrede Dairy Project's costs. However, it should be pointed out that the Vrede Dairy Project also makes provision for a processing plant – although its price tag of R30 million is a small percentage of the total project costs.
Cowshed features
The newly constructed cowshed features highly effective Italian-designed technology and is on a par with top SA dairy farms. However, it has not been equipped with adjustable Italian cow crates, which are maintenance-free and more convenient for the animals, boosting their milk production.
During the past two years, several SA dairy farmers have invested in Italian-designed cowsheds, which use compost and straw for the cows' bedding instead of sand and straw.
The latter requires more labour to keep the bedding clean, while sand may also pose problems when biogas is generated from the cow dung.
A Western Cape dairy farmer, Willem Basson from Uilenkraal near Darling, whose Italian cowshed had been in use since 2012, said his average daily milk production had increased from 36l/cow to 40l/cow.
Tobie Mostert of Dasvlei, Philadelphia, in the Western Cape, who also invested in an Italian cowshed, said the Chromadek roofs of the houses were designed for better ventilation, while also providing effective insulation, resulting in much cooler conditions than conventional sheds.
READ: Growing maize in the Swartland
Normally, large ceiling-mounted fans are also installed to enhance ventilation in circular areas. These fans have blades ranging from 4m to 7m in diameter and are mounted 3m above the ground. In the Vrede project's cowshed, the fans have yet to be installed.
At the time of going to print, the Public Protector was still awaiting answers from the Free State Department of Agriculture and Rural Development. Qabathe had answered some of Jankielson's questions in the provincial legislature, but declined to answer others. Jankielson will put more questions to the MEC and suggested that the portfolio committee visit the project.