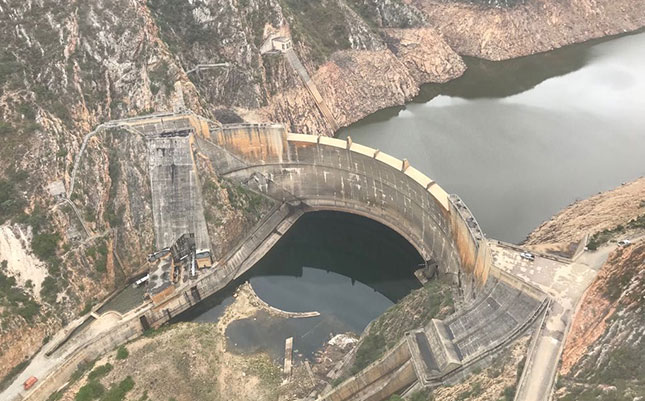 Tough water restrictions for the new water year are putting serious pressure on many farmers in the Gamtoos Valley in the Eastern Cape, with some operating in survival mode, according to Rienette Colesky, CEO of the Gamtoos Irrigation Board.
From the beginning of July, the 132 water users in the Gamtoos Valley, who rely exclusively on the Kouga Dam for their daily water needs, will be able to draw just 20% of their full annual water quotas. Currently, the dam level stands at 6,92%.
READ Court upholds ban on sale of water rights by farmers
Colesky stressed that dairy farmers, in particular, would experience a difficult year. "These farmers are heavily dependent on grazing for their cattle, and as soon as they do not have enough water to irrigate their pastures, they must start purchasing feed."
Adelé Bain, owner of the pasture-based dairy farm, Cosa-Moo-Selot in the Gamtoos Valley, have had to move half of her 650-head Holstein herd to another farm, as the water restrictions were severely affecting pastures on the farm.
"Four years ago, we had to slaughter a third of our herd due to the drought just to make a living. The past four years have been nerve-wracking, and having to cut [down] the herd again is going to have a major impact on production, reproduction and sustainability, therefore we moved our animals."
READ Food price inflation volatility set to continue
Another farmer in the area, Cornel Ferreira of the farm Vlakteplaas, told Farmer's Weekly that the current water allocations would definitely affect his operations. He said that according to his calculations, he would only have enough water to supply drinking water to his cattle.
He added that the additional feed that he would have to buy-in would cost him around R2,7 million to R3 million.
"With [only] 20% of an agricultural water user's full water allocation, farmers can just manage to keep their citrus crops alive," Colesky said.
She added that she expected citrus farmers to focus on their high- income potential citrus trees, while older and less profitable trees would receive less attention.
Colesky told Farmer's Weekly that several farmers, who were prepackaging their produce and have contracts with retailers, rented land in areas not dependent on the Kouga Dam in order to fulfill their contracts and deliver their produce.
"[But] it doesn't mean they make a profit," she stressed.
According to her, the Kouga Dam was replenished when there was flooding in the area.
"If intense rainfall events occur in the Langkloof, which is the main catchment area, good run-off to the Kouga Dam occurs. The [South Africa Weather Service] predicted above-normal winter rainfall between June and August.  Hence we are hopeful that this will replenish the dam level."