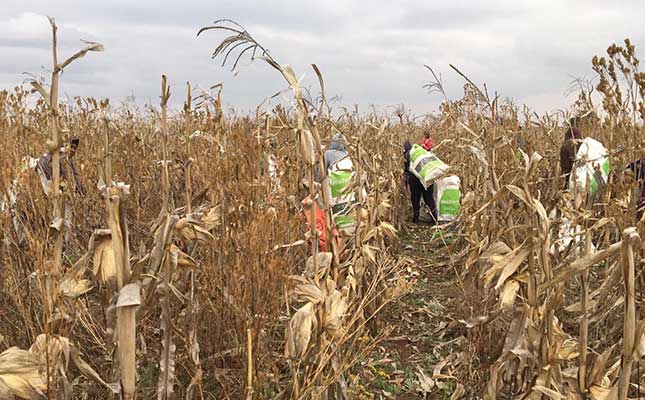 Corné Louw, senior economist at Grain SA, confirmed to Farmer's Weekly that some of the remaining unharvested lands were too wet for a harvester to enter. Subsequently, labourers needed to harvest each cob of maize by hand.
"This is more laborious and time-consuming than using a combine harvester. It's also more expensive."
Willem Groothof, executive member of Grain SA, told Farmer's Weekly that farmers in North West and the Free State, in particular, were experiencing harvesting difficulties due to recent unprecedented rainfall.
"In recent years, grain farmers had mechanised [their operations] as much as possible and therefore this has added an expense that was not budgeted for."
However, due to South Africa's high unemployment levels, casual labourers were readily available.
"Despite the fact that farmers have to pay more, workers are [grateful] for the additional income that this provides," he said.
Jaco Minnaar, president of Agri SA, said while waterlogged lands were a problem, it was not insurmountable.
"The sunflower and maize harvests are simply coming in at a slower pace than normal. But you cannot harvest soya bean by hand, and therefore some of this crop is going to waste."
However, Minnaar said that when taken in context, the losses farmers were suffering was not significant, and in itself the slow pace of harvesting would not have a negative impact on the quality of the harvest.
In terms of food security, Minnaar said while a few lands remained wet, it would not result in any food shortages over the short term.
"More than enough grain has already been delivered to silos, and we do not foresee any short-term problems in terms of grain supply. Government is understandably concerned about food availability given the [current uncertainty on global markets]."
According to the latest data from the South African Grain Information Service, more than five million tons of white and yellow maize had already been delivered during the first four months of the current marketing year, which runs from March 2022 and February 2023.
Agbiz Grain's latest prospectus indicated that South Africa produced between 10 million and 12 million tons of maize per annum.
Of this, 4,1 million tons were used for human consumption, while about 3,9 million tons went to animal feed. The starch and glucose manufacturing industry consumed about 650 000t of maize annually.