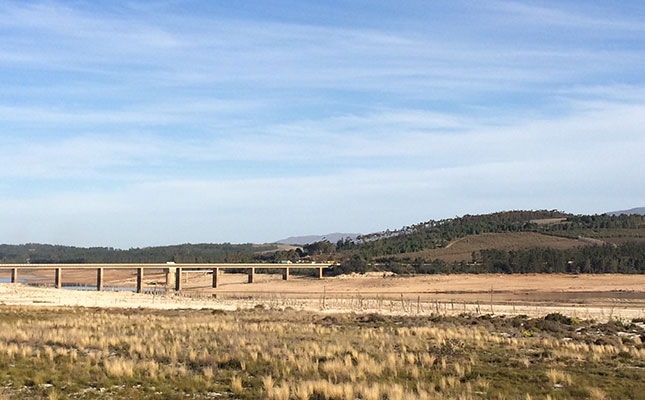 The Western Cape's agricultural sector is set to lose an estimated R5,9 billion in the 2017/2018 season due to prevailing drought conditions across the province.
This is according to a recent policy brief report by the Bureau for Food and Agricultural Policy (BFAP) in collaboration with the Western Cape Department of Agriculture. In this brief, Louw Pienaar and Johann Boonzaaier explored the economic and financial impact of the drought on the economy of the province.
The report found that the total income after costs was estimated to decline by up to R5,9 billion, which represented an average production decline of around 20%, as a result of the drought.
The report's findings suggest that this can firstly be attributed to the impact of production losses of various crops grown in the province. The wheat industry's production decreased from 1,1 million tons in 2017 to 586 800 tons forecast for 2018.
"This 47% decline has erased around R2,4 billion in income to the grain sector, while both canola and barley producers were also under severe pressure. In total, the grain industry in the Western Cape's gross value added is set to decline by R2,8 billion," reads the report.
In the fruit sector, the grape industry will experience the greatest loss due to the drought. The Western Cape table grape industry is set to lose around R787 million, while the wine grape industry's loss is estimated at R591 million at the primary level.
The pome fruit industry's output will decline by an estimated 9%, which translates into R898 million lost, while the stone fruit industry will lose R458 million. The recent strengthening of the rand has also put pressure on earnings from fruit exports.
The impact of the drought on the citrus industry is, however, more difficult to calculate as harvesting of these orchards has not yet commenced. However, using a modest production decline of 7,7% in the Western Cape, it is predicted that the income losses are valued at R259 million. The decline for alternative crops (pomegranates and figs) was R36 million.
The drop in income from vegetable farming was mainly driven by a decline in the area planted rather than production levels. The expected impact of the drought for vegetables (potatoes, onions, butternut, pumpkin, carrots and cabbage) is in the region of R78 million at industry level.