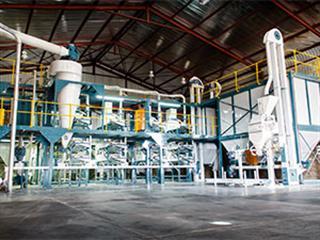 The ROFF R70 is suitable for entrepreneurs starting a milling business, agricultural companies or farmer co-ops who would like to provide a marketing service for their members and individuals or groups of farmers looking to add value to their product.
It comes standard with a surge bin for maize inlet, cleaning and conditioning equipment (with a conditioning bin), de-germination, milling, sifting, conveyors, electrical panel, electrical cabling and all steel structures.
All operational equipment is installed across two levels, so that processes are visible from multiple angles. This enables easy control of the plant. All components are also easily reachable, with the top floor mainly used for maintenance purposes
Sheet metal parts are laser-cut to ensure excellent quality and, to reduce installation time on site, the mills are pre-assembled at the ROFF factory. Clients need only provide the building, water point and electrical supply to the panel.
Compact in order to save floor space and reduce installation costs, the ROFF R70 can produce 100t of maize/day – or 30 000t/year, a potential annual turnover of R100 million.
The cost of the installed mill in SA is between R2,5 million and R3,5 million for a 4t/hr plant, with smaller capacity options also available.
Indeed, small enterprises can also benefit from the R70 mill, as a 2t/hr version can be installed on a similar platform as the standard R70. And it's easily upgradable to the 4t/hr configuration without missing more than 48 hours of production time.
For the client's peace of mind, the R70 is covered by an optional maintenance contract.
For more information, contact 056 212 2696/7 or [email protected]. Website: www.roff.co.za.