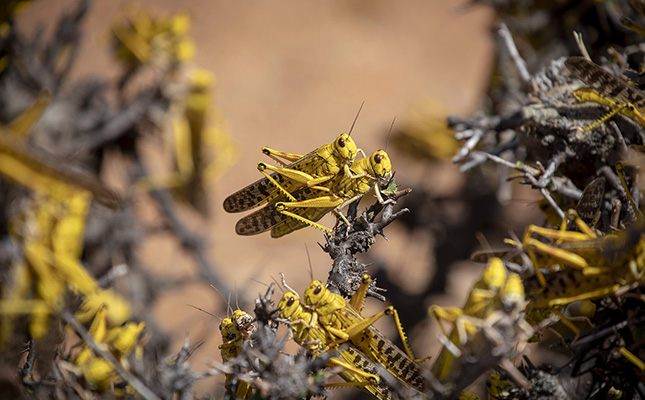 From deploying drones and fire trucks, to banging utensils and blaring loud music, farmers and authorities in India are experimenting with ways to battle a new wave of desert locust infestations across the country.
"We have never ever seen what we have in the last six months in India," Bhagirath Choudhary, director of the New Delhi-based South Asia Biotechnology Centre, an agriculture think tank, told Reuters.
Millions of desert locusts crossed into the state of Rajasthan in India from Pakistan at the beginning of May, continuing into Uttar Pradesh, Madhya Pradesh, Maharashtra and Gujarat.
As field crops had recently been harvested, the locust swarms invaded urban areas, feeding on bushes and trees.
"Eight to 10 swarms, each measuring around one square kilometre, are active in parts of Rajasthan and Madhya Pradesh," KL Gurjar, the deputy director of India's Locust Warning Organization, told news agency AFP.
According to local media reports, some farmers had mounted insecticide sprayers on their tractors, or were banging steel pots and plates, while others lit fireworks or played loud music through speakers in the middle of their fields.
Several news outlets also reported earlier this year that Chinese authorities would deploy 100 000 ducks to neighbouring Pakistan to help tackle swarms of crop-eating locusts in that country.
Early this year, Pakistan declared an emergency saying locust numbers were the worst in more than two decades.
According to Bloomberg, Lu Lizhi, a senior researcher with the Zhejiang Academy of Agricultural Sciences, said that while chickens could eat about 70 locusts in one day, a duck could devour more than three times that number.
The Food and Agriculture Organization of the United Nations (FAO) attributed the current crisis to the strong winds that followed Cyclone Amphan, which hit India and Bangladesh in late May.
The FAO said desert locusts were the most destructive of all locust species because of their speed and ability to quickly multiply, with an adult locust able to fly a distance of up to 93 miles (about 150km) in an hour.
"Several successive waves of invasions can be expected until July in Rajasthan, with eastward surges across northern India as far as Bihar and Orissa, followed by westward movements and a return to Rajasthan on the changing winds associated with the monsoon," the FAO said in its latest Desert Locust Situation Update.
The locusts had so far destroyed over 50 000ha of croplands, putting further strain on food supply, as India faced its worst food shortages since 1993 due to the coronavirus disease pandemic, the report said.